Navigator Business Solutions has been named to Bob Scott's Top 100 VARs for 2022.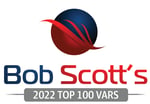 The Top 100 resellers are chosen from organizations specializing in the sale and implementation of Enterprise Resource Planning (ERP) and accounting software.
"We want to congratulate this year's class of Bob Scott's Top 100 VARs," said Bob
Scott, executive editor of ERP Global Insights (formerly known as Bob Scott's Insights).
"This selection represents recognition of leaders in this important field."
The selection is based on annual revenue generated by each reseller. A special report
that includes names of the organizations selected for this year's Top 100 list, ranked by
revenue, is downloadable at http://www.erpglobalinsights.com.
This report is made possible by the continued support and cooperation of our readers
and by our sponsors: Acumatica, Repay, and Sage.
Bob Scott has been informing and entertaining the mid-market financial software
community via his email newsletters for 23 years. He has published this information via
the Bob Scott's Insights newsletter—now known as ERP Global Insights—and website
since 2009.
He has covered this market for nearly 31 years through print and electronic publications,
first as the technology editor of Accounting Today and then as the Editor of Accounting
Technology from 1997 through 2009. He has covered the traditional tax and accounting
profession during the same time and has continued to address that market.
Who is Navigator?
As an SAP Gold Partner, and one of the top SAP implementation partners in the world, Navigator focuses on helping small and mid-sized companies deploy cost-effective, cloud-based ERP solutions based on the market-leading SAP Business One and SAP Business ByDesign platforms. Navigator also provides award-winning ERP professional services, including installation, implementation, consulting, training, and US-based development.

With more than 500+ implementations, Navigator has a proven track record of on-time, and on budget, implementations. This has made Navigator the top SAP partner for the past 10 years, and the obvious choice for small and medium-sized businesses that are looking for improved operations and greater revenue growth.
Who Navigator Serves?
Life Sciences, Biotechnology, Distribution, and Consumer Products Organizations come to Navigator Business Solutions when they find their ability to grow and or adapt is being limited by their current business processes and systems. All have outgrown their current business systems, some systems are just underpowered, unable to support the company's growth, some struggle with a group of disconnected systems and yet others simply are out-dated systems that are taking valuable time and resources to hold together.
Want to learn more? Connect with us at (801) 642-0123, email info@nbs-us.com, or contact us online here.
You can also Explore our Solutions here.