Are you curious about the world of IT consulting and how it has evolved over the years?
Join us as we explore Ralph's remarkable journey in the world of IT consulting, from his early days as a programmer to his current role as a sales leader at Navigator Business Solutions.
In this episode, we'll gain insights into SAP implementations for life sciences clients, including different project models, the keys to success, and effective partnership management with SAP.
If you're curious about IT consulting and SAP, you won't want to miss this episode!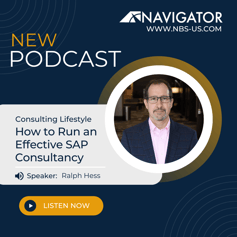 ERP Happy Website | Spotify | Apple Podcasts | Google Podcasts
Get in touch with Ralph Hess from Navigator Business Solutions:
LinkedIn: https://www.linkedin.com/in/ralph-hess
Website: Navigator Business Solutions https://www.nbs-us.com
To get in touch with Diogene:
LinkedIn: https://www.linkedin.com/in/diogenentirandekura
Instagram: https://www.instagram.com/diogenentirandekura
Coaching with Diogene: https://calendly.com/diogene/free-coaching-call