When a business invests in enterprise resource planning software (ERP), it is investing for the long haul.
That's because even though cloud ERP has made it easy to switch platforms, actually moving to a new ERP solution still is time-consuming and costly. ERP sits at the center of a business, so changing solutions requires adjusting business processes and migrating everything from data to employees over to the new system. With ERP software sitting at the center of your organization, you can't just pick another product and be on your way.
So, investing in an ERP solution is also investing in a long-term partnership with the vendor that makes the software. While the specifics of a given ERP solution are important, so is knowing and trusting the vendor you will be relying on for years to come.
With that in mind, let's take a look at the largest and most pervasive ERP vendor on the market today, SAP. No matter your industry or company size, SAP probably will be on your ERP solution shortlist.
Where does your company fit on the Pyramid of ERP Solutions?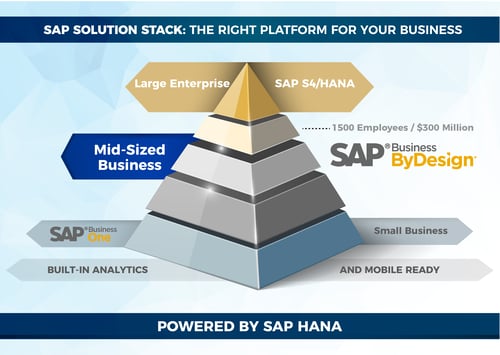 SAP: ERP Leader Since the Industry's Beginning
It is estimated that roughly 77 percent of all global transactions come in contact with SAP software. There's a reason for this: SAP not only helped invent the ERP space, starting with an integrated accounting solution in 1973 and leading the industry as it grew into what it is today. It also is the largest ERP vendor and the 12th largest technology company in the world, used by more than 404,000 businesses across 180 different countries.
Most large businesses use SAP or its closest competitor, Oracle, and SMBs also rely on SAP software; 80 percent of SAP's customer base is made up of small to medium-sized businesses (SMBs), a surprising number given the company's reputation for powering some of the world's largest multinationals.
SAP certainly serves big business. But over the years, the company has developed distinct product lines that serve each segment of the market. There's SAP Business One for smaller firms, SAP Business ByDesign for growing medium-sized businesses, and the company's flagship SAP HANA for larger enterprise customers.
Much of the underlying technology is the same, but each SAP product line is full-featured and built from the ground up for its intended market. A multinational has different needs than a 10-employee business, and vice versa. So, SAP has built appropriate solutions for each.
Small Firms that Use SAP Business One
SAP Business One is the company's complete ERP solution for small to medium-sized businesses, and it handles everything from accounting and financials to operations, sales and customer service.
More than 60,000 businesses use SAP Business One, with most having between 10 and 200 employees and between $1 million and $50 million in annual revenue. Subsidiaries of larger organizations also use the solution frequently. Industries that lean heavily on SAP Business One include manufacturers, technical fields and business services. SAP Business One also is used frequently by retail, energy and waste management, healthcare, construction, transportation and telecommunications firms.
Mini Melts, Inc. a Connecticut-based, world leader in cryogenic pelletization. MiniMelts provides the leading machines bringing cryogenic ice cream to tens of millions of satisfied customers in more than 40 countries. They have truly revolutionized the world of gourmet frozen desserts.
Plascore Inc., a Michigan-based OEM manufacturer of metal and plastic honeycomb cores for the automotive, electronic and pharmaceutical industries with annual revenue of roughly $26 million, uses SAP Business One for managing it manufacturing operations in real-time and handling supplier and customer relationships.
For David Leadbetter Golf, a Florida-based golf coaching and product company with annual revenue of roughly $6.2 million, the biggest use for SAP Business One is getting real-time insight into what its instructors and 31 employees are doing for better overall utilization. The company also uses Business One for more precise inventory control.
On the larger end of the SMB spectrum, California-based jewelry company, QALO, which grew from $29.4 million in revenue in 2017 to more than $100 million by the end of 2018, uses SAP Business One for coordinating with its more than 500 retail partners. It centralizes all its daily operations using the system, as well as automating its more than 1,500 daily orders.
Medium-Sized Firms that Use SAP Business ByDesign

SAP Business ByDesign is SAP's mid-market solution for fast-growing businesses. It is an entirely cloud-based ERP system, unlike SAP Business One that is available both on-premise and in the cloud. SAP Business ByDesign also includes more than 255 integrations out of the box, and it scales better for businesses that are rapidly moving from SMB to larger enterprise.
That's not to say that small businesses don't also use SAP Business ByDesign. While the largest group of users are businesses with between 50-200 employees and between $25 million and $250 million in annual revenue, businesses with between $1 million and $10 million in annual revenue and 10-49 employees are almost equally represented. Manufacturing, Life Science, Distribution, Technical and Business Services are the top industries that use SAP Business ByDesign, but healthcare, energy, education, telecommunications, finance and retail also heavily use it.
One example is Skullcandy, a Utah-based audio electronics maker for the snow and skateboard market with annual revenue of roughly $266.3 million. The company uses SAP Business ByDesign for managing inventory and sharing data with big box retailers, handling compliance issues around being both publicly and privately funded, and for scaling operations fast without system disruptions.
Another example is Rothy's, a maker of 3D-knit, sustainable shoes. In just three years, the startup has gone from an idea and a small stall in San Francisco's Ferry Building to pulling in $140 million in annual revenue. They believe that a beautiful, sustainable style is the way of the future.
A much smaller firm that also relies on SAP Business ByDesign is CeloNova BioSciences, a Texas-based medical devices firm that manufactures cardiology and endovascular products and has annual revenue of roughly $3 million. The firm uses SAP Business ByDesign to manage its complex supply chain, meet stringent FDA regulatory requirements, and simplify both operations and financial management.
For Virginia-based Aurora Flight Sciences, a developer of autonomous systems for aviation with annual revenue of more than $100 million, SAP Business ByDesign helps the company manage government contracts and costing, work with multiple currencies and suppliers around the world, and track operations in a fast-changing environment.
Large Enterprises that Use SAP HANA
Then there is SAP HANA, the flagship ERP offering from SAP that powers some of the world's largest companies. SAP HANA is used on-premise, in the cloud, or as a hybrid option for companies that want to mix cloud and on-premise systems.
Companies with annual revenue of $1 billion or more are the biggest users of SAP HANA, although companies of all sizes use the solution, including thousands of firms with annual revenue of less than $50 million. But larger enterprises comprise the bulk of SAP HANA customers, firms with more than 1,000 employees.
The list of businesses that use SAP HANA is long and distinguished.
The British multinational oil and gas company, BP, based in London and with annual revenue or roughly $222.8 billion, runs its vast drilling, refining and distribution network using SAP HANA for everything from managing logistics to tracking oil and gas futures.
For Coca-Cola, headquartered in Atlanta and with annual revenue of roughly 35.41 billion, SAP HANA enables the company to manage manufacturing, sales and distribution across much of the world, in addition to overseeing employees and its vast supplier network in real-time.
Then there is 3M, the multinational manufacturer from Minneapolis with annual revenue of roughly $31.66 billion. The company uses SAP HANA to oversee the manufacture and distribution of more 55,000 different products across 65 different countries.
Other well known firms that use SAP HANA include ConAgra, BASF North America, Audi AG, Burger King and Citrix, among many others.
These are just a few of the hundreds of thousands of companies that power their businesses with SAP enterprise resource planning software.
Firms that choose SAP for their ERP backbone are going with a vendor that helped invent the ERP space, and one that still leads the industry. They also are in good company.