When you're a startup, things move fast. One day you're developing a business plan and securing funding, and the next you're securing funding and expanding into new markets.
As your company grows, your reliance on backend IT systems and processes will become more critical for ongoing success. Process control, visibility, automation, and analytics all take on an increased role.
Enterprise resource planning software (ERP) handles all aspects of a company's operations while serving as the nerve center for everything from sales, operations, logistics, and fulfillment to accounting and human resources. All the while, it also connects with third-party software solutions such as e-commerce and supplier systems.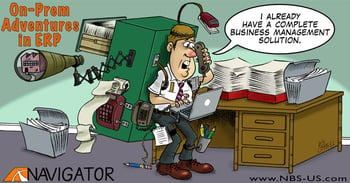 As you grow, your existing tools and processes start to feel inadequate and you'll start to need an ERP. But it's hard to know exactly WHEN you should invest in an ERP system. Moving too quickly can distract you from your core business. Upgrading too slowly can limit your growth, on the other hand.
Timing Matters
There's no one-size-fits-all timeframe. That said, some solid indicators include having more than 10 employees, being past the initial R&D stage, and having found the proper market fit for your product. Having annual revenue that exceeds $1 million is another sign. You should have defined your processes and standardized production before looking at ERP, in most cases.
Operational capabilities today become blockers tomorrow if the right foundation is not set in advance, cautioned Christopher Beck, global head of IT at Harry's, a popular purveyor of men's shaving supplies.
"Can your systems support where you want the business to be in two years?" he said in a recent case study on the company's systems growth through ERP. "It is always challenging to plan ahead as a startup. But try to aim for that as opposed to playing catch-up after the fact."
He speaks from experience. Harry's, founded in 2012, has captured so much of its market over time that the corporate parent of rival Schick tried to buy the company for $1.37 billion in 2020 before it was blocked on anticompetitive grounds. Along its growth path, Harry's has realized the need for ongoing operational reassessment and planning to optimize its business processes.
Early on, Harry's used a small business accounting solution for basic financial processes, but the software couldn't keep up with the financial complexity as the business grew. ERP was implemented to serve as the nerve center of the company for integrated standardized processes.
Rothy's, an equally successful startup in the footwear business, similarly used a number of disparate systems for its first few years of rapid growth. When Rothy's began looking at ERP, the company had only 15 employees and was a few years old. Today, the company has more than 100 employees. With its breakneck-speed growth, the company needed a foundation that would grow with the company.
"We had a fine process if we were going to be a $10 million business forever," said Ulion Riebe in a case study about the company's growth, Rothy's head of finance. "But we just knew that it wasn't going to pass. We wanted to make sure that the wheels didn't fall off later."
Do Growth Right
You may have heard misconceptions that ERP rollout is extremely costly and takes too long for young companies to benefit from what the system offers. The reality is that many specialized ERP solutions are now almost turn-key. Prepackacked industry solutions can dramatically cut implementation time and costs, as they come preconfigured with best practices and processes.
So while Rothy's and Harry's took several years before they moved to ERP, others go there right away via a prepackaged industry solution.
Pharmaceutical firm TriRx found this type of solution especially valuable when it implemented ERP in just 12 weeks for roughly $500,000. Life sciences firms have an extra burden in that ERP systems require validation by a third-party auditor, and starting with a system that was preconfigured specifically for their industry helped greatly with validation and faster business setup.
"We told Navigator that we wanted their out-of-the-box, best practices for pharmaceutical companies," said Scott Harris in a recent story about the company's backend systems growth, VP and site director of TriRx. "Since we didn't have any previous system, it wasn't like we were trying to adapt it to work with what came before."
Don't Do It Alone
Timing matters, but so does having the right assistance with the journey. ERP implementation is complex, and working with an experienced solutions partner with sound best practices can strongly impact correct configuration, rollout times and selection of the right system and modules.
The horror stories about ERP rollout are true in most cases, but only when businesses cut corners and try to roll out a system without fully understanding the process and best practices. Planning and proper support are essential.
For a better sense of the journey, download our free guide, ERP Implementation Guide for CFOs. You also can talk with an experienced ERP consultant by calling us at (801) 642-0123 or by emailing info@nbs-us.com.