The distribution business is more competitive than ever thanks to ecommerce and giants such as Amazon that have muscled in. There are more options for consumers, more direct selling going on among manufacturers, and tighter margins.
The specialized role that distributors used to perform is getting chipped away in this new landscape. Either distributors adapt and get efficient, or over the next few years they will see a large share of their revenue leaking away as a result of the above headwinds.
Operationally, there are five key challenges that modern distributors must address if they are going to stay relevant in the coming years.
Challenge #1: Inventory Management
There's little room for old processes that were functional but inefficient. To compete in the age of ecommerce, modern distributors need real-time, end-to-end visibility on stock levels, the manufacturing supply chain and logistics. Warehouse staff need to know exactly where stock is located, how much is available, and when reorders are necessary.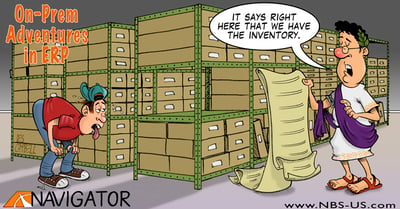 To facilitate this, modern distributors need a backend system that accurately and precisely tracks all inventory. This almost always means a warehouse management system (WMS) such as Loxodo [built for SAP Business One and SAP Business ByDesign ERPs] or for very large enterprises SAP Warehouse Management.
Challenge #2: Ecommerce
Manufacturers often are now selling direct to consumers. Modern distributors also must now start selling online directly to keep away revenue erosion. This need for ecommerce options both is needed to sell direct, and to facilitate easier orders from existing customers in the chain that are getting used to online ordering.
Selling and taking orders online and through ecommerce platforms is a new area for some distributors, which means they need a greater web presence and backend systems that can connect to cloud selling platforms and marketplaces.
Challenge #3: Shipping Errors and Returns
Customer service has always mattered. But with ecommerce and competition just a few clicks away, good customer service is becoming a key differentiator for modern distributors.
Accurately filling customer orders is the cornerstone to this customer service success for distributors, so reduced shipping mistakes and low return rates are key.
Again, this comes back to inventory and logistics accuracy. Modern distributors are transforming their businesses through digital transformation that includes a strong enterprise resource planning (ERP) system and a solid WMS in place.
Challenge #4: Slow and Outdated Reporting
Having the right products in stock at the right levels has always been the trick for distributors. Too much inventory reduces cashflow and increases the risk of unsold stock, but too little simply destroys a distribution business. This classic challenge for distributors has been made harder by faster shipping expectations, a wider range of products that must be kept in stock, and more variable sales cycles.
Business visibility and accurate forecasting is therefore critically important for the modern distributor. Savvy distributors are moving away from cyclical reports and are instead embracing real-time reporting that captures what's going on with the business in the moment instead of at a point of time in the past. This increases forecasting accuracy and areas such as having just the right amount of stock in warehouses and on order.
Challenge #5: Outdated and Disconnected IT Systems
None of the four challenges above can be addressed properly with legacy backend IT systems, which amounts to perhaps the biggest challenge that distributors face today. Older IT systems are slow and have trouble connecting with ecommerce platforms, partner IT systems such as manufacturers, and modern cloud software solutions that are becoming increasingly critical for just about every business today.
Modern distributors are moving their IT systems to the cloud, a critical step that removes the need to upgrade and ensures always-on connectivity so operations are modernized and stay modern even as business trends continue to change.
"We were kind of tired of the headaches of hosting our own server in our office, having to do maintenance, and worrying about downtime," says Eric Johnson in a recent case study on the value of moving to cloud ERP, vice president of operations for Countrywide Tire.
A modern, cloud-based IT system almost completely eliminates those headaches, though.
"I always feel like we're on current software, and the software is evolving," Johnson says. "If you factor in cost and efficiency, [the value of moving to the cloud] is through the roof."
Modern distributors really cannot afford to stay on legacy IT systems given the market dynamics that are changing the distribution today—IT modernization is an essential step.
These are not the only challenges that modern distributors face, of course. For a more in-depth look at both the challenges faced by distributors and the path to overcome them, download our free ebook on the topic, Navigator'sModernization Guide for Wholesale Distributors.