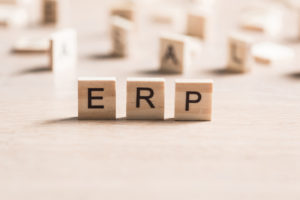 ERP is not a new thing, and has been around for the better part of 40 years. However it used to be a technology that, due to capital constraints, was typically limited to large, multi-national corporations. However, over the last 10-15 years, business enterprises have been adopting ERP technology. Now, with the cloud literally everywhere around us, it makes sense that our critical business data should be with us wherever we are, and accessible whenever we want it, thus making cloud-based ERP a must-have for rapidly growing small & large businesses.
Cloud-based ERP applications, like SAP Business ByDesign and SAP Business One, are nearly identical in functionality and implementation to traditional on-premise solutions. However, because there is no capital equipment such as servers to buy, and no IT armies to pay, it becomes a very cost-effective alternative; one that many companies are adopting, quickly.
Using a cloud-based ERP solution can dramatically lower your TCO (total cost of ownership). Among other things, ERP will reduce your IT footprint by aligning your infrastructure, simplify multiple location operations, and enable users access to critical business data from any internet-enabled device, all in real-time!
Forrester, a leading, independent research company, published the following points as to why cloud ERP is being widely adopted, and also why it is important for your business' agility and long-term viability.
Lower upfront costs & TCO
Economies of scale - Most cloud applications share resources and costs among large pools of users. Doing this allows companies to save money and pass these savings onto their customers, ultimately making them more competitive.
Virtualization - Because cloud solutions utilize virtualized servers, hardware, and storage, your business' cloud solutions can be used more efficiently, ultimately saving you more money.
Pay as you go and only pay for what you need - With companies like SAP & Navigator, implementation costs are typically fixed, thus eliminating the worry about never-ending upcharges. On top of this, the solutions are deployed in a way that enables you to only pay for the functionality you need. Additional functionality can be implemented as you go, or as your business needs it.
Reduce hardware and virtually eliminate costly maintenance - Most of the costs associated with ERP software are usually not software-related. It is the cost of the hardware and IT staff. With cloud-based ERP, the costs associated with infrastructure, services, and support are virtually eliminated, saving you more money.
Run a thin client/application structure - Because the software is housed in the cloud, it is not necessary to have it installed to every PC, smartphone, tablet, and laptop, thus allowing you to save money on leaner, more efficient devices and machines.
Align IT infrastructure with YOUR business' requirements - Because you are only paying for the functionality that you need, cloud-based ERP grants your business greater flexibility to better align with your strategies and goals. This is essential when thinking about fluctuating business needs and conditions, and also allows start-ups and smaller companies to preserve precious capital.
Solution that scales with your business - Because your business can quickly and easily "hook" into the cloud, your business can focus on revenue building activities from the get-go. Regardless of how slow or fast your business grows and expands, your company can easily buy more access, capacity, and functionality, instead of having to upgrade costly IT hardware.
Ease of deployment - With cloud-based ERP, all that is needed to access the software is an internet connection. When something goes wrong, your business simply calls the vendor to resolve the issue. With the reduction of internal IT issues and headaches, your business can focus on innovation and increasing revenue.
Reduce the costs and complexities of upgrades - With cloud-based ERP, and more specifically SAP Business ByDesign, every workstation and every device in your business gets automatic access to the latest versions of the software as it becomes available, at no additional cost! In addition, these upgrades are pre-planned to occur during a slow period of business, or even in the middle of the night. You choose what is optimal for the your business.
Accessibility to your data 24/7 - No longer will people need a VPN connection to access their systems remotely. So long as you have internet connectivity, you have access. Its that simple.
World-class reliability and security - Because SAP utilizes world-class, global security standards and backup practices, you have no need to worry about protecting your most valuable asset: your customers' information. Your data is safe and secure in world-class data centers.
In summary, by using cloud-based ERP software, like SAP Business ByDesign and SAP Business One, your business will benefit from lower costs, better alignment between your technology and your business' needs, better scalability, easier deployment and upgrades, anywhere/anytime access, and industry-leading levels of security and reliability.