Thi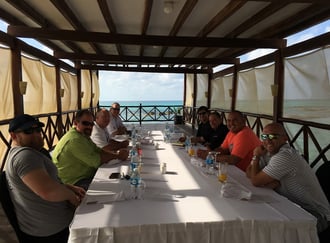 s past month a team of Navigator employees celebrated individual and collective successes in 2015 by being invited to President's Club. This year the retreat was held in beautiful Cancun Mexico. Navigator President's Club is an honor given to employees who work tirelessly towards meeting or exceeding their respective employee annual goals, and who also embody Navigator's Vision, Mission, and Values.
At Navigator's annual All-Hands meeting in January of 2016, winners were announced by Grant Fraser, CEO, and informed that they and a significant other were invited to attend the all inclusive get-away.
While in Cancun, employees enjoyed a myriad of activities in a terrific setting. "It was an incredible time", remarked Brian Hedrick, Account Manager of Navigator's western accounts "the atmosphere was amazing, and the company was perfect."
Plans are already being made for 2017 President's Club, to be held between April 17-24th of the coming year at a location to-be-determined. Mr. Fraser has commented "We are looking at venues where we may go, but based on previous destinations, we can guarantee a great place, a great time, and most importantly, a happy 'significant other.'"