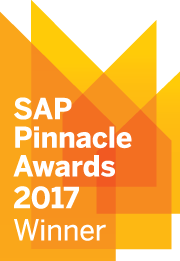 Navigator Business Solutions Receives 2017 SAP® Pinnacle Award: SAP Business ByDesign® Partner of the Year
Pleasant Grove, UT — May 8, 2017 — Navigator Business Solutions, today announced that it has received a 2017 SAP® Pinnacle Award as the SAP Business ByDesign® Partner of the Year, which recognizes its outstanding contributions as an SAP partner. SAP presents these awards annually to the top partners that have excelled in developing and growing their partnership with SAP and helping customers run better. Winners and finalists in 19 categories were chosen based on recommendations from the SAP field, customer feedback and performance indicators, including a Customers' Choice award, which recognizes a customer-nominated SAP partner.
"Navigator is thrilled to receive the prestigious 2017 SAP® Pinnacle Award: SAP Business ByDesign Partner of the Year" says Grant Fraser, President/CEO, Navigator Business Solutions. "This is our third Pinnacle Award that recognizes the value that Navigator delivers through our SAP products and services, providing our customers a competitive edge to thrive in their industry."
"One of the things we love about SAP Business ByDesign is the ability to provide a capable and scalable Cloud ERP solution that drives profit, growth and innovation for our customers." Says Ralph Hess, Vice President of Sales, Navigator Business Solutions. "Working SAP for the past twelve years, helping more than 500 clients has given Navigator the proven expertise to deliver the SAP ERP solutions our customers need to succeed in this dynamic market."
Navigator continues to work with SAP and their clients in a continued drive towards excellence through their annual SAP Business ByDesign Users Conference, being held this year, Oct. 25-27 in Provo, UT. Details can be found at www.sapbydesignconference.com
"SAP is proudly committed to our ever-open, expanding partner ecosystem," said Bill McDermott, CEO of SAP. "No company can or should go it alone in this digital economy. SAP's partners bring domain expertise, global scale and a shared commitment to our customers. The SAP Pinnacle Awards give us the chance to salute the best of the best."
SAP Pinnacle Awards shine a spotlight on SAP's partners' remarkable contributions, acknowledging their dedication to teamwork, innovative approach and capacity to challenge what is possible to help customers achieve their goals. Award winners will be formally recognized at the SAP Global Partner Summit in Orlando, Fla. on May 15. The SAP Global Partner Summit is held in conjunction with SAPPHIRE NOW® and ASUG Annual Conference, the largest global business technology event, hosted by SAP and ASUG May 16–18.
About Navigator Business Solutions:
Navigator is the recognized expert in providing complete packaged SAP Cloud solutions to small and mid-sized companies. Our proven approach provides our customers the experienced leadership to leverage cloud solutions to support growth and change, while reliably controlling back-office costs and improving operating margins. Navigator has a proven track record of on-time, on-budget, and fixed-price implementations – all of which have enabled Navigator to serve as a SAP Gold Partner for the last 10 years.
By helping more than 500 clients better manage and grow their businesses, we understand how to work with you to apply our proven expertise to deliver solutions for your business needs. We offer an entire suite of SAP-certified, integrated extensions to help better leverage your SAP system. These integrated extensions include credit card & shipping integration, EDI, eCommerce (Magento, eBay, Amazon, WooCommerce), point-of-sale, WMS, DCAA reporting, and configurator.
Headquartered in Salt Lake City, Utah, Navigator ( http://www.nbs-us.com ) has more than 20 sales & service locations across the United States and Canada, ensuring that help is where and when you need it.
# # #
SAP, SAPPHIRE NOW and other SAP products and services mentioned herein as well as their respective logos are trademarks or registered trademarks of SAP SE (or an SAP affiliate company) in Germany and other countries. See http://www.sap.com/corporate-en/legal/copyright/index.epx for additional trademark information and notices.
All other product and service names mentioned are the trademarks of their respective companies.
SAP Forward-looking Statement
Any statements contained in this document that are not historical facts are forward-looking statements as defined in the U.S. Private Securities Litigation Reform Act of 1995. Words such as "anticipate," "believe," "estimate," "expect," "forecast," "intend," "may," "plan," "project," "predict," "should" and "will" and similar expressions as they relate to SAP are intended to identify such forward-looking statements. SAP undertakes no obligation to publicly update or revise any forward-looking statements. All forward-looking statements are subject to various risks and uncertainties that could cause actual results to differ materially from expectations. The factors that could affect SAP's future financial results are discussed more fully in SAP's filings with the U.S. Securities and Exchange Commission ("SEC"), including SAP's most recent Annual Report on Form 20-F filed with the SEC. Readers are cautioned not to place undue reliance on these forward-looking statements, which speak only as of their dates.
Contact:
Navigator Business Solutions
801-426-0123
info@nbs-us.com