Following good manufacturing practice (GMP) guidelines help businesses run more efficiently and ensure that product quality and consistency are maintained. Life sciences businesses such as pharmaceutical makers and medical device manufacturers not only benefit from GMP adherence but they also are required to follow it according to FDA regulations.

The processes that life sciences businesses follow must be validated in line with FDA regulations 21 CFR. This mandates that life sciences businesses follow GMP practices as well as good documentation practices (GDP) to maintain product quality throughout all stages of the supply chain, good laboratory practices (GLP) to ensure the development of quality and reliable test data, and Good Clinical Practices (GCP) to protect subject rights and data during clinical trials. Collectively this set of practices is known as GxP.

Part of the FDA regulations for life sciences businesses, 21 CFR part 11, specifies that validation also is required for the computer systems used by life sciences businesses that relate to GxP requirements. This, therefore, includes the validation of SAP Business ByDesign, an ERP used by many life sciences businesses today.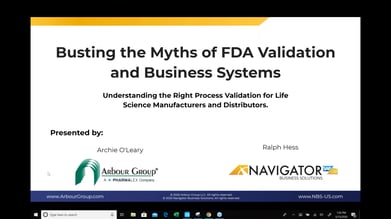 Understanding FDA Validation

Validating a software system is nothing more than proving that the system reliably meets all FDA requirements around GxP on an ongoing basis. This is achieved by defining the processes that should be taking place, testing the system to show that it meets these process requirements, and documenting the required processes and test results to prove the system performs as required.

This process of testing and documenting the system for GxP requirements is known as FDA validation. It usually is performed by the life sciences business and then verified by a third-party validation firm much like an auditor verifies financial records.

See our blog post on How to Validate Software for the FDA for a more in-depth look at the process of FDA validation.

Validation During Implementation and Whenever Systems Change

Life sciences businesses that use SAP Business ByDesign or other software for operations must complete FDA validation before the software can be used in a production environment. When this software is changed or significantly upgraded, life sciences firms also must re-validate the software to ensure that processes continue to meet FDA mandates.

The good news is that re-validation is not required every time there is a software update. Minor updates do not trigger a re-validation if the existing processes within the software remain intact. Only process and functionality changes within software require FDA re-validation.

The way that SAP Business ByDesign rolls out updates assists with limiting the burden of FDA validation. Because Business ByDesign is modular and based on configuration options, new features and updates that could potentially alter processes remain off until a business has tested them and turned on the new functionality.

This means that a life sciences business can control when there is a software update, and check to see how it impacts processes before rolling it out. With this control, life sciences firms can help avoid software updates that might trigger a re-validation.

Reducing FDA Validation Headaches with a Prepackaged Solution

Meeting the FDA validation requirements for software solutions set forth in 21 CFR part 11 requires the correct configuration of the software before testing and documentation. This often is where the cost and complexity come for software validation because incorrect configuration can lead to processes that don't meet GxP requirements and require additional configuration work, testing, and verification.

Navigator's prepackaged ERP solutions for life sciences businesses significantly ease this configuration burden. That's because our prepackaged life sciences solutions come FDA validation-ready out of the box. The correct processes for meeting GMP requirements and FDA validation for a given life sciences business are already configured by default. So instead of having to configure SAP Business ByDesign from scratch to meet FDA validation mandates, a life sciences business can start with a system that is ready for validation.

This pre-configuration cuts the cost and time required to prepare for FDA validation, and it reduces the risk of validation failure. Many third-party validation firms also are familiar with our prepackaged solutions, which reduces the cost of verifying the system against FDA requirements. FDA validation and GxP adherence become a technicality instead of a headache.

By working with Navigator, life sciences firms also benefit from our deep experience with implementing systems that pass GMP and FDA process requirements. This includes our test-script library that represents the more prevalent functions in the manufacturing process for a life sciences business.

If you run a life sciences business, take the pain out of FDA software validation. Learn more about our prepackaged industry solutions for life sciences business, and our ERP software validation services, and watch our free webinar on busting the myths of FDA validation and business systems.