Something strange is happening with your business operations.
You've got a solid team and your processes have been both sound and effective. Until recently. Whereas all functions were once flowing with minimal trouble, you're now experiencing recurring hiccups across various departments.
If you're having to reconcile too many spreadsheets, or your workforce has no confidence in your database, or you're spending too much time accessing and retrieving data—it may be time to make an adjustment. You might need new business software.
Here are four of the top signs that you've outgrown your existing business systems and need an upgrade.
Your Current Software has No Mobile Functionality
Business is increasingly on the move. Regardless of a staff member's location, access to certain system features via a mobile phone, laptop or tablet is now a necessary function. If your workforce is having to check back into a stationary workstation instead of having the freedom to work in the field, that's probably costing your company time and money.
Modern ERP solutions operate in the cloud, so workers can access your business systems whether they are at their desk in the office or out in the field on a mobile device. Older systems just can't compete with cloud-based ERP that is continuously updated for the latest advancements in mobility and mobile device functionality.
With a new ERP system for your business, your workforce will appreciate being untethered from their office and able to get work done where and when it is needed.
Your Workforce Blames Your Software for Operational Inefficiencies
Botched orders. Data losses. Technical failures. Missing inventory. If your team is constantly coming to you with these kinds of issues while pointing to the software as the culprit, something is wrong.
While human error may certainly be at play, team members can only work with the tools they've been given. If these tools aren't cutting it because they differ from department to department or can't manage to play well with others, then it's time to cut them loose for a more cohesive, efficient solution.
Because it is cloud-based and updated constantly by the vendor, cloud ERP is better prepared for tech changes and the kinds of issues that over time cause operational efficiencies.
By updating to modern business software, you reduce the daily gremlins and minor problems that add up to a problem for your organization.
Systems are No Longer Letting You Do What You Need
Perhaps you've had a developmental change to improve business procedures. Maybe there's been a recent corporate restructuring, merger or acquisition. Possibly you've implemented a major strategic and cultural change.
In all of these situations, if your current software has not been able to keep up with new changes in your business model, it's time to make a another change—this time to your business system.
Unlike disparate software across multiple departments or legacy on-premise ERP software, modern cloud-based ERP is designed to support scalability and changing business processes as your business evolves.
Don't settle for outdated solutions that may hinder your growth. Keep up and keep going.
You're Constantly Struggling with Compliance
If your in-house accounting or IT teams are still handling compliance manually, you're doing your business an injustice. Because state and federal regulations are often constantly evolving and changing, it's especially time-consuming and burdensome to fulfill compliance demands by hand.
Instead of running the risk of an audit—or having to pay expensive penalties or fees for failing to meet certain regulations or taxation requirements—you could leave this chore to a modern business system.
Newer cloud-based ERP systems can assist you with ensuring compliance with regulatory bodies, even as laws change. Additionally, by centralizing your compliance data, modern ERP can also aid in improving quality assurance and risk management by maintaining thorough records and delivering requested documentation quickly.
If you've experienced any of the aforementioned scenarios and you're anxious to get back on track in addressing the demands of your growing organization, congratulations; your company is moving in the right direction.
Don't run the risk of interfering with your company's progress by allowing antiquated software and systems to stymie your operational flow, though. Instead, consider the alternatives and think deeply about making a replacement for your failing business systems.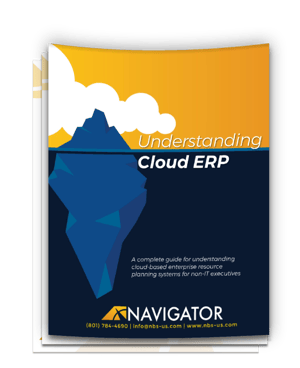 We've put together a guide for businesses considering an upgrade, Understanding Cloud ERP for Non-IT Executives. You can download a free copy with this link and learn more about how a modern business system can change your operations for the better.
You also can contact us for help. For the past 25 years, Navigator Business solutions has assisted more than 500 clients with upgrading their systems to modern ERP solutions. Contact us at info@nbs-us.com or (801) 642-0123 for more information or a free consultation.