The consumer products industry is not easy. On the one hand, social media and online marketplaces have made it easier than ever to find consumers and get started. But on the other hand, these same dynamics have increased competition. Only the most organized and focused consumer packaged goods firms find success.
Part of that organization and focus comes from having the right retail and consumer goods solutions in place, specifically a consumer goods ERP.
A textbook example of how a consumer products ERP can support growth is men's shaver manufacturer, Harry's.
How Harry's Used a Consumer Goods ERP for Explosive Growth
Harry's, a private company which is valued at more than $2 billion and had another bumper year of sales growth with an increase of 47 percent in 2021, knew from the beginning that it needed a firm foundation to grow. That's why it moved from basic accounting software to SAP Business ByDesign almost immediately once sales began flowing, an SAP for consumer products ERP solution.
The initial reason for moving to this retail and consumer goods solution was enforcing best practices and standardization early so this mindset would be firmly in place in the company as it grew.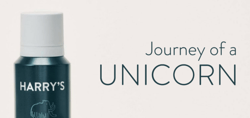 "I think as a small business grows, you're going to run into the need to put processes in place in order to be a little bit more efficient with how you do business," says Christopher Beck in a case study about Harry's scaling journey, global head of IT at the company until earlier this year. "So that's where SAP Business ByDesign was certainly helpful. It took a wild west approach, which is just get it done as fast as you can, but wrapped a little process around it to standardize. That helped us get in the mindset of standardizing our processes."
Initially, this consumer goods ERP was mostly used in the finance and department to give it more robust analytics and accounting processes than it could get with solutions such as QuickBooks. But since ERP is an end-to-end backend solution that serves as the nerve-center for a business, this also meant that the company's consumer goods ERP was ready to handle other areas of the business as it scaled.
One of the areas where SAP Business ByDesign helped Harry's grow was integrating its new manufacturing facility in Eisfeld Germany with the company's headquarters in New York. Harry's was able to use this retail and consumer goods solution to easily add materials resource planning and both supply chain and distribution logistics.
At the same time, this SAP for consumer products solution helped Harry's connect with a range of online marketplaces, and assisted it with handling a variety of different invoicing and sales process scenarios it needed for wider distribution.
With help from Navigator Business Solutions, which provides ERP consulting services for the CPG industry, Harry's was able to harmonize its internal systems with third-party logistics (3PL) systems that sometimes wanted order invoices in a different form. Because ERP is highly configurable, and extendable, Harry's was able to negotiate the differences between the 3PL and electronic data interchange connection to Harry's system so both could get what they needed without manual intervention on the part of the company.
Since SAP consumer goods products such as Business ByDesign use the same interface and ease the migration path to the larger SAP solutions favored by Fortune 500 companies, the use of Business ByDesign also positioned the company for future jumps in growth and additional levels of business process complexity.
This ability to serve small CPG firms now but support future growth later is why a consumer goods ERP like Business ByDesign is the right retail and consumer goods solution for navigating the modern CPG landscape.
"Can your systems support where you want the business to be in two years?" asks Beck at Harry's. "It is always challenging to plan ahead as a startup. But try to aim for that as opposed to playing catch-up after the fact."
Need Help Building Your Backend for Growth?
Navigator Business Solutions is an SAP Gold Partner with more than 25 years of ERP experience from helping with more than 500 implementations worldwide. We have developed a prepackaged ERP retail and consumer goods solution that makes ERP adoption even easier for CPG firms, and we also provide ERP consulting services for the CPG industry.

If your business is held back by inefficient processes or IT systems that require manual intervention, or you need a consumer goods ERP that can support your company's growth in the future, download our free guide Understanding Cloud ERP for Non-IT Executives or contact one of our experienced consultants at (801) 642-0123.