There's probably nothing more exciting in your experience as a startup than the day you received funding. Not only does this mean investors believe in your vision, but now you also have the financial ability to scale and make the business what you've always imagined.
Once this major step has been achieved, however, you now need to start laying the foundation for that growth. This means hiring the right employees, getting the right tools, and establishing processes that support a business long-term.
Getting Growth Right
If you've been wearing multiple hats up until now, you probably already realize that it is time to begin delegating parts of the business. What you may not realize is that this also is the time for putting the right tools in place for supporting sustained business growth; many of the tools you relied upon during the initial phase of your startup might have worked, but they don't scale any more than running every part of the business yourself scales.
You need the tools of a successful business, not the tools used before you had startup funding. One of the most important tools you'll need is a good ERP system.
Why You Need an ERP System
Enterprise Resource Planning software (ERP) is exactly what it sounds like: a tool to help ensure your business is always operating optimally and efficiently across all areas of your company. ERP encompasses accounting, finance, human resources, supply chain, distribution, manufacturing, inventory and most other standard areas of a business, and it serves as the nerve-center for your company.
There are many reasons that your startup needs to start using an ERP system after it gets funding, but a few of the most important reasons include predictive analytics, complete data integration, faster onboarding, rapid scaling, and robust user access controls for appropriate security based on job function.

Reason #1: Predictive Analytics
As a startup, you probably already know that the future of business is based on good use of data. That means big data, AI and predictive analytics.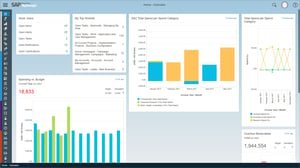 What you might not have considered is how you will collect all the data and make it available for real-time analysis and decision making. Just having data in your various cloud-based software services is not enough—these data sources need to come together, get standardized, and be analyzed in real-time. That requires centralization—which is exactly what ERP provides startups.
Reason #2: Integrated Data
Analytics isn't the only place where your business benefits from a centralized database with all company data. Having a single source of truth also benefits the humans, too—you and your new hires make more informed decisions when every piece of your company's data is housed together and in one place.
Having the data integrated reduces departmental silos, a going concern for established businesses. It also makes it faster to access the right data, since everything is collected in one place and there is not the need for multiple logins.
By integrating data, there also is less chance for data redundancy—company data only lives in one place, not many.
Reason #3: Faster Onboarding
Now that you have funding for your startup, you'll probably be hiring more. That means training and onboarding new employees in the systems, methodologies and culture of your startup.
Having an ERP system in place can help with onboarding along two lines.
First, ERP reduces the systems learning curve because it serves as an all-in-one back office solution. There aren't many software packages to learn, each with different layouts and unique logins—there's just one system to learn and one employee login. This cuts down on the systems learning curve.
Second, ERP gently guides and enforces the business processes that you've set up in your business by creating a standard pathway for new employees to get particular tasks done. And if you haven't yet defined all your businesses process methodologies, ERP by default works from industry best practices so it can serve as a good starting point for building your processes.
Reason #4: Rapid Scaling
Of course scale is on your mind. You just got funding for your startup. ERP can help.
Things change fast as your business grows. You need software and systems now, and probably in many areas you don't yet know about. At the same time, you need software solutions that can grow with your business when you move from startup to established firm.
By putting an ERP system in place, you handle both issues that can slow down the scaling process. You put in place a complete business system that has all the major components your business will need, even if you don't yet fully know your needs—so when you find you need something, you already have it ready.
At the same time, cloud-based ERP systems enable you to go from a small team to a large enterprise without having to upgrade to a bigger software solution—cloud ERP scales with you all the way up to Fortune 500 status.
Learn how to scale from University Lab to Multi-Country Sourcing and Distribution.
Reason 5: Robust User Access Management
Finally, you need an ERP system now that you're funded because security is important and you can no longer work from the old model of a collection of cloud services and shared passwords passed among each member of the team. As your business grows, you need access controls that let each employee access only the parts of your business that are needed for their particular job function—and an audit trail to define who is accessing what data.
ERP provides this crucial security, enabling your startup to define who can access what data in your company and logging this data access at every step.
So congratulations on getting your funding. Now comes the work of using the money wisely to go from startup to established firm. You already know new hires are on the way—but don't forget your business software situation. This means selecting and putting in place an ERP system to give your business the right backoffice foundation to grow strong.
Are you ready for more detailed information?
Join one of our weekly Cloud-based ERP demos