The COVID-19 pandemic unsettled the supply chain, and the Ukraine-Russia war, ongoing cyberattacks, and trade disputes have only continued the trend. This has put pressure on manufacturing, with particular challenges for companies that source components and products from disparate geographies.

Life sciences, which involve complex supply chains and various types of subcontractors, have been hit particularly hard. It's been difficult for companies to maintain quality standards, achieve faster time to market, meet more demanding customer expectations, and comply with regulatory mandates.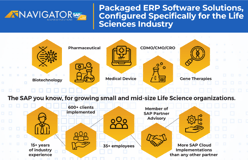 Packaged ERP Software Solutions, Configured Specifically for the Life Sciences Industry
The Hidden Cost of a Product Recall

Errors in the manufacturing process can give rise to a mismatched formula that impacts the quality of the final product, driving firms to recall products from the shelves if the problem impacts customer safety. These can lead to damage to users' confidence and the company's reputation which can be hard to quantify.

When a firm recalls products, it may impact innovation in that product's market. A recall can delay a company's incremental innovations by as much as six months in many cases.

Life Sciences product development teams typically focus on a single product category or line so that they can marshal expertise more efficiently. During a product recall, the team must shift its attention to solving and finding the root cause of the problem that caused the recall. This also leads to revenue impact. Because this time isn't being spent on new product development, the company may lose the opportunity to gain first mover advantage elsewhere.

If a life sciences firm can bring a new product to market even one month earlier following a rival's recall, that could bring in an additional $10 million in revenue, according to the article The Hidden Cost of a Product Recall from Harvard Business School's Working Knowledge blog. The bigger a recall, the faster rivals can speed up innovation and grab market share.

ERP Validates Production Process and Quality

Having an ERP solution will enable higher process quality and can minimize the chance of a product recall. ERP empowers the automation and integration of all processes and the consolidation of business data into one single source of truth.

This leads to end-to-end visibility for real-time updates and the ability to pivot quickly when an abnormality arises. ERP also provides data consistency, because every stakeholder of the company has access to the same numbers when it comes to production reporting, breaking silos and making sure nobody is missing data.

ERP also offers visibility into the business practices of suppliers and suppliers' suppliers, where significant risk for pharma companies can lurk. Businesses have to map their suppliers by tier to have an end-to-end view of the supply chain and identify vulnerabilities.

Trace and Measure the Total Cost of Quality

ERP empowers businesses to trace and measure the total cost of quality when it comes to using resources to maintain qualitative outputs to their customers. That's because ERP platforms simplify data for continuous improvements by reducing process waste and finding excess spend in transportation, inventory, waiting, processing, production, or other key performance indicators.

Essentially, ERP helps businesses identify leading metrics and track all processes while using data to make short-term and long-term decisions. Moreover, cloud ERP will allow data and business processes to be stored securely, minimizing the risk of cyberattack, thanks to the security of a cloud ERP provider. Data confidence and accessibility also streamline audits and reporting, reducing that potential drain on resources.

Simplified Compliance Validation

Firms involved in pharmaceuticals, biotech, and medical device manufacturing are subject to the regulatory rigors of the FDA, E.U. regulations, and many other agencies in many cases. Computer systems used to manage, control, and track the manufacturing and distribution of medical devices and pharmaceutical products must be validated to ensure they meet these regulations, as well as general Good Manufacturing Practice (GMP) guidelines.

This forces manufacturers to further invest in training and other prevention and appraisal activities, and to introduce more quality checks in the daily processes. Compliance is one of the most complex and costly processes manufacturers face; it creates frustration for workers and requires validation of every detailed point mandated in the relevant regulations.

To meet regulatory demands, ERP platforms must comply with the FDA's 21 CFR Part 11, as well as many other regulations. This often requires engagement with qualified third-party auditors. Cloud-based ERP that supports specific life sciences businesses can integrate and manage all the processes necessary to comply with federal guidelines and regulations.

These investments ultimately make the tasks easier to execute, helping to compensate for hiring challenges and increasingly complex tasks. Beginning with a set of templates for FDA compliance, many companies can reduce the time and cost of the validation process and ensure that they will pass audits.

ERP validation can consistently deliver on high standards of quality, accelerate the production chain, safeguard materials processing, and minimize business exposure and risk. Dedicated and experienced ERP experts can help you ensure a successful transition and implementation.

Learn more about how ERP from Navigator can help firms validate quality in the life sciences field.