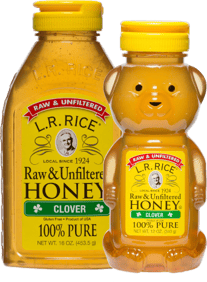 SALT LAKE CITY - July 26, 2016 -- Navigator Business Solutions has announced that Rice's Lucky Clover Honey, a respected producer of 100% pure raw & unfiltered American honey, selected Navigator to implement its company procedures and operations onto a single streamlined software platform: SAP Business One.
Rice's Lucky Clover Honey was formed in 1924, and has grown steadily since inception. It is a women-owned, family operated company, which is now in its 5th generation. Nurturing long-standing relationships with beekeeper families throughout the US, Rice's customized filling process and system ensures the natural pollen and enzymes of the raw honey remain in every bottle. The company operates out of its Greeley, Colorado office.
To aid their commitment to stay competitive within the market, Rice's chose SAP Business One, a unified enterprise resource planning (ERP) solution, to automate their operational processes, streamline workflow, and manage inventory across the organization. This process involved identifying the proper platform to upgrade from Quickbooks. This platform would need to be adaptable to the unique standards and needs of the company.
"We certainly liked what SAP offers" said Mike Lordemann, Vice President of Operations at Rice's Honey. "The back-end systems, up to date analytics, and the ability to grow with our company was very important to us." Mr. Lordemann continued "We are excited to have the capacity to track a project with quality from start to finish with accurate financials."
"Navigator is excited to add Rice's Lucky Clover Honey to our list of Customer's For Life" stated Geoff Ashley, Navigator's Sr. VP of Sales & Marketing. "We believe Rice's will be able to function at much higher levels internally with our solution in place, and we look forward to celebrating ongoing success with them."
About Navigator Business Solutions
Navigator Business Solutions is the premier Cloud value added reseller and SAP Cloud Partner of the Year for SAP Business One and ByDesign software platforms, services and proprietary add-on software. Navigator's cloud first, agile methodology has enabled effective implementations for over 500 small and medium sized manufacturers, distributors, professional and commercial service providers, retailers, and industrial focused companies worldwide. www.nbs-us.com
About Rice's Lucky Clover Honey
L.R. Rice founded Rice's Lucky Clover Honey headquartered in Greeley, Colorado, in 1924. This women-owned, family operated company, now in its 5th generation, remains a leading producer of authentic, high quality, raw, and unfiltered honey. The company's honey is 100% pure, local United States, raw and unfiltered honey. Rice's Lucky Clover Honey has generated significant brand equity through its commitment to producing high quality, premium, raw, and unfiltered honey at affordable prices. www.riceshoney.com
To read the original PR, please click here.
Contacts
Navigator Business Solutions
Sarah Chairez, 801-642-0123
Marketing Coordinator
marketing@nbs-us.com