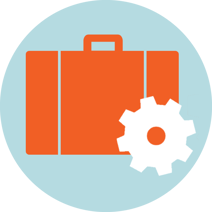 Have you reached the point where running your business is running you ragged? Wouldn't you prefer to concentrate on service delivery and client satisfaction, instead of fire-fighting back-office tasks? Are you actively managing projects, or merely juggling them? Can you quickly determine how your business is performing at any point in time, or do you assume being busy is indicative of a profitable operation? Are you driving managed growth, or just getting bigger?
These worries plague many growing, mid-size service companies –from accountancy practices to business consultants, engineers, advertising and marketing professionals, recruiters, researchers, estate agents and translators.
Here, we identify the top 6 challenges that are common to all these businesses and show how you can address them, once and for all, with more streamlined ways of working and joined-up thinking.
1. Balancing Supply & Demand for Resources
Just as with any factory, capacity management is crucial to your business. The workload you can accommodate is constrained by the basic equation of time multiplied by people, so it's vital to avoid over-commitment that will compromise quality. At the same time, you're challenged to optimise resource allocation, as your workforce is largely a fixed overhead and under-utilisation will negatively impact your bottom line.
When your firm was smaller, you were probably able to determine availability and schedule projects using a whiteboard, calendar planner or spreadsheet. But as you hire additional people with diverse skill-sets to support increased business activity, the process of allocating resources and managing your workload manually starts to reveal its inadequacies as deadlines slip and profits slide.
What's Needed?
Clear, current and accurate visibility into supply and demand across existing and upcoming projects with integrated Work In Progress reporting that allows you to allocate resources more efficiently and profitably.
2. Omptimizing Cash Flow to Maintain Your Liquidity
No matter how much revenue you're generating, cash flow is critical. Late payments not only cost
a business in lost interest, they can affect the financial sustainability of the business. That's why
getting the job done is only half the story – billing and getting paid on time is the other.
Again, when your business was more compact and manageable, you could probably get by with
manual invoicing processes. But growing in size is often accompanied by growing complexity. You probably have multiple concurrent projects and a larger workforce than in the early days. Some staff may work full-time on a project while others may be spread across several jobs at any given time. You incur expenses of various kinds, some billable, some not, and you may bill for materials as well as time. Your staff are more than likely charged out at different rates, depending on their skill set, experience and seniority. If you're still relying on spreadsheets and documents to generate invoices, and reactive phone calls for credit control purposes, chances are you're not getting paid promptly, either.
What's Needed?
A streamlined order-to-invoice business process with fully-integrated time and expense
management and automated billing functionality, in order to achieve visibility into point-in-time
project costs, generate error-free invoices and enforce timely payments.
3. Ensuring On-Time and On-Budget Delivery
Your ability to deliver projects on time and on budget is critical to revenues and reputation – it's what keeps you afloat and keeps your clients coming back for more. As your portfolio expands, your operations demand greater flexibility, reflected in the way you resource projects. You may need to bring in temporary or freelance workers, consultants, subcontractors or outsource partners to provide the manpower or expertise needed to fulfil the requirements of the job.
Spreadsheets and even most project management software don't work optimally in a distributed environment, affecting your ability to plan adequately and deliver projects within agreed timescales and budgets. Juggling complexity, your business developers or account managers may artificially inflate estimates and schedules when bidding for a new project (making your firm less competitive) or swallow the overage (affecting your profitability). They may even end up having to surprise the client with additional costs and delays (potentially tarnishing your reputation).
What's Needed?
A collaborative project management capability that enables team members to visualize forecasted resource, plan, execute and track project deliverables and share progress reports with stakeholders.
Want more information? Click here.