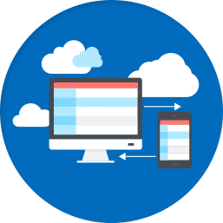 As a manufacturer, but really even as an everyday regular Joe, you've undoubtedly heard and read the buzz about the cloud. A simple definition of the cloud is that it is a network of servers, some of which perform online services and some which allow storage of and access to data. Technology companies with a heavy consumer focus are leading the charge in promoting cloud solutions and are battling vigorously for attention and dollars with the aim of having people entrust their digital lives to them.
With the above said, manufacturers oftentime have different priorities than consumers who are primarily concerned with being able to access their music or photos at anytime from anywhere. For example, medical device manufacturers have an even greater set of concerns that introduces regulatory compliance into the equation. Highly regulated device manufacturers are focused on innovation, patient safety and operational efficiency, but nothing is more important that complying with federal and international requirements like Title 21 CFR Part 11 or standards like ISO 9000 & 13485. Regardless, the prospect of trusting the operation of your business to a cloud ERP solution could scare you, but it shouldn't. If you are considering the cloud, the secret is selecting a cloud ERP solution that works for your business. To clarify, one that meets your standards for security, as well as your processes and regulation requirements if such exist. There are countless players in the cloud, so it is crucial to ask at least the following questions prior to finalizing your decision.
Is it secure?
Security can be a major source of anxiety when considering a cloud-based solution. However, a cloud solution that is designed to meet the specific needs of a manufacturer can easily overcome these concerns. A cloud ERP provider needs to make security, privacy and high levels of information technology (IT) controls of paramount importance when designing a solution.
A viable cloud solution uses stringent infrastructure and operational security measures to protect the underlying network, servers and application, all while controlling access to sensitive corporate data. Data centers must include state-of-the-art technical security measures, such as electronic and remote (yet secured) access; up-to-date firewalls and malware protection; and physical security measures, such as perimeter fences and live monitoring. With these measures in place, information resides in a cloud solution optimized for most industries, and is even more protected than an on-premise server and/or data center.
Does it meet your compliance and regulatory requirements?
A cloud-based ERP solution must be offered in a regulatory compliant IT environment. It should be a robust, highly available solution with all the necessary standard operating procedures to meet the requirements of national regulatory authorities. Examples of such include (but are not limited to):
US Food & Drug Administration (FDA)
DCAA (defense contractors)
21 CFR Part 11 compliance
What benefits will the solution deliver in the short, medium, and long-term?
Everyday, more companies are delivering cloud ERP solutions. Cloud-based solutions that are delivered on a qualified infrastructure mitigate risks and the variability often associated with on-premise deployments. A cloud deployment delivers the financial benefit of moving from capital expenditures to operational expenditures, allowing device companies to be more capital efficient. They deliver predictable security, reliability, availability and expense management to help minimize risk. Cloud deployments are simpler and more rapidly deployed than typical on-premise solutions. Some, but not all, deliver the same globally-accessible, full-strength ERP solutions as their on-premise versions.
Finally and as stated previously, when/if your business is choosing a cloud-based ERP solution, you must ask the right questions as part of your decision. It is imperative that your company choose the right solution for your industry; not a square peg - round hole solution that serves as more of a headache than anything. The business needs to select a comprehensive solution that provides high levels of security, regulatory compliance, all the while delivering predictable costs that are easy to predict, budget, and grow with. Only then should a business put its heart and head in the cloud.
Navigator, SAP's top global partner for cloud solutions, hosts live web demos every week. To learn more, and to register, click here.