Modern warehouse management needs visibility and transparency for all data to control costs, maintain profitability and optimize operations. That entails aggregating large amounts of information and metrics about who is buying products, which products are selling, and how to maintain enough stock to keep customers happy.
Central to this project is having a single source of truth for all company data. With a single source of truth, businesses data is always accurate and reliable. It also eliminating redundancies and organizational silos, and provides visibility to all departments of the business.
A comprehensive enterprise resource planning (ERP) solution with an integrated warehouse management system (WMS) provides this single source of truth, and is one of the most valuable tools for warehouse management and optimization.
Integrated WMS with ERP Provides Visibility and Transparency
Global warehouses are already well positioned to take advantage of warehouse automation technologies, according to research by Omdia. Sales of technologies such as robotics and logistics solutions reached $1.9 billion by 2016, and are expected to reach $22.4 billion by the end of this year. WMS solutions specifically help warehouses gain an average 25-percent more overall productivity, a 10- to 20-percent gain in space and a 15- to 30-percent more efficient use of stock.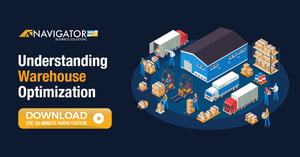 Integrating a reliable WMS with an ERP system produces the much coveted single source of truth for warehouses, offering visibility and transparency into virtually every aspect of business. Warehouses will benefit from a host of features including warehouse and production layout, location and planning area management and supply chain network design. Managers will also be able to keep more accurate tabs on resource management, including equipment, vehicles and workers.
Beyond those benefits, an ERP solution with integrated WMS produces volumes of data that may be intelligently mined and analyzed to create valuable business insights.
A WMS solution is designed specifically to make warehouse operations easier. In addition to creating efficiencies and increasing productivity, it provides real-time data and management of all aspects of the warehouse. The offering also supports mobility and takes advantage of the cloud to enable scalability while ensuring solid, stable performance.
One of the advantages of a WMS solution is that it is designed to integrate specifically with the SAP Business One and SAP Business ByDesign ERP platforms. This ensures transparency and visibility across all warehouse systems as well as interconnected logistics, enabling businesses to take full advantage of big data and analytics based on a SSOT.
Mining Value from Big Data and Analytics
According to research by Nitco, big data and analytics are one of the top trends in warehouse automation and management for 2021. Performance data is necessary for finding areas of warehouse operations that need improvement, as well as increasing efficiencies and adding to the bottom line.
Predictive analytics is one of the most popular current tools for warehouse management, facilitated by the use of an intelligent, automated ERP system in tandem with a WMS solution. The model is used to make predictions about future events and situations, extracting information from statistics, data mining, artificial intelligence (AI) and machine learning.
This analytics can be applied across the entire supply chain to help gauge impending risks while also finding opportunities and areas that need improvement or closer scrutiny.
Some of the benefits of predictive analytics, and why it is critical for warehouse management today:
Demand prediction
This enables businesses to predict demand across a variety of channels using forecasting analytics. It can be useful for analyzing consumer behavior and demand patterns to determine demand at various times of the year.
Inventory optimization
Warehouses can avoid running out of stock or overstocking by optimizing inventory based on forecasted future demand for certain products. Predictive analytics also offers insight about consumer buying patterns, helping warehouses maintain more accurate stock levels and make more intelligent inventory management decisions.
Data customization and refinement
An ERP coupled with predictive analytics enables warehouses to explore and correlate data about a number of business practices and operations. This helps businesses to make better long-term decisions about budget, operations and nearly every other aspect of business.
Improved customer service
A final benefit of applying predictive analytics to warehouse management is improved customer service. Warehouses will be better stocked and operating more efficiently, which will ultimately lead to increased customer satisfaction.
Information about buyers, inventory levels, sales metrics and worker productivity is vital to success and profitability for any warehouse. Big data combined with intelligent analytics aggregates that information, generating powerful insights about trends and behaviors that may be used to improve nearly every aspect of a business.
But a single source of truth is critical for making the most of big data and analytics in warehouse management. A modern ERP system, combined with a well-integrated, flexible WMS solution, enables this single source of truth so that analytics may be intelligently and automatically applied. Businesses can then reap the benefits and rewards of a better managed, more productive and efficient warehouse.
For more information about how to optimize your warehouse operations, download our free guide, Understanding Warehouse Optimization.