Growing companies face a multitude of challenges in today's post-pandemic environment. This is particularly true in industries with complex supply chains and strict compliance, tracking, and documentation needs.
A cloud-based enterprise resource planning solution (ERP) can be an important help. ERP provides a digital core and helps a business keep up with ever-changing variables and business processes while providing insights to help identify and evaluate long-term growth potential.
ERP facilitates resilience, agility, speedy decision-making, better internal and external collaboration, and total regulatory compliance. Growth industries like biotech and pharmacy, manufacturing, fast-moving consumer goods, retail, and budding multinational companies require a solution that's as dynamic as their business environments.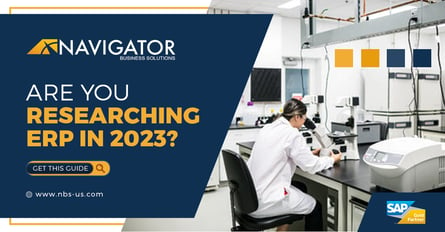 Accelerate Financial Performance Cycles and Consolidate Finance Systems
Growing organizations have a lot of transactions and complex revenue streams. Publicly traded firms have heightened audit and compliance needs. Without ERP, accounting departments are likely wasting time manually reentering duplicate data into different systems, and becoming frustrated trying to match transactions in the general ledger.
ERP systems automatically capture all aspects of a company's operation, providing a complete picture of financial performance without the need for crosschecking and rekeying data. Companies can get reports that suit their needs, taking a bird's-eye view or diving into more detailed operational data on specific areas that the business would like to dig into.
Meanwhile, it's tough to audit financial statements coming from multiple departments or locations within a larger company, especially if multiple currencies and tax regimes are involved; often the information in each report doesn't match up. ERP simplifies consolidation by accessing all the reports and using them to create and audit consolidated financial statements without any need for file conversions.
A business can get complete financial visibility across the entire organization in order to predict expenses and manage costs from issues like regulatory compliance and supply chain disruptions. Real-time data enables you to make adjustments as needed, limit risk, and spot new opportunities as they arise. An ERP platform monitors things like vendor pricing, the cost of materials, and other spending variables. A good system will also flag any cost exceptions and model alternative sourcing possibilities.
Scalability and Flexibility
With a scalable and flexible ERP platform, a firm can handle more complex scenarios as the business grows, without worrying about replacing the system in the medium to long term.
Scalability and flexibility are especially important for contract manufacturers, as they must be able to adjust to specific terms and process requirements for each client's unique needs. The right ERP platform will provide the flexibility and reconfigurability necessary to enable seamless integration with most other software systems.
ERP can simplify integration with the systems used by contract manufacturers or other third-party logistics providers or suppliers in the value chain. Real-time views of vendors, inventory, and logistics also provide insights into supply and demand issues to allow for proactive resolution. An agile production and distribution process ensures you can deliver products consistently.
Prepackaged industry solutions further improve operations by improving configuration and rollout speed. This enables faster implementation and minimizes the risk of rollout issues or misconfiguration.
Internal Controls for Better Compliance
Compliance requirements can be a challenge, from data management to health and financial compliance regulations. An ERP solution can automate compliance efforts to ensure that all applicable rules are being met.
Some industries—including biotech, medicine, life sciences, and pharmaceuticals—must produce strict documentation to comply with the FDA and other global governing bodies and validate that their business systems are operating properly. By having an ERP platform that supports the validation process, both internally and in conjunction with third-party auditors, you can prevent compliance errors and reduce the time needed to prepare documents.
Automate Your System and Support Talent Management
An ERP platform empowers you to automate business workflows as well, which can help cut down on repetitive routine transactions and business tasks. This frees up valuable time for your staff to focus on strategic tasks such as sales and high-level planning instead of filling out reports. Workers who are no longer stuck performing repetitive data entry and tracking tasks are more productive and efficient.
One of ERP's primary benefits is that it automates a variety of business processes to better integrate workers and teams. Data and processes are streamlined and centralized, enabling different departments to share information and collaborate seamlessly. ERP also provides a single view of data that multiple departments can use for planning.
With a growing company, HR also plays an important role in recruiting, attracting, retaining, and—in the modern, challenging hybrid working model—mobilizing workforces. SAP ERP helps with talent acquisition and management to empower businesses to take these challenges head-on with a holistic approach to building a sustainable workforce—from recruitment to internal mobility to learning and growth.
SAP: An Important Tool for Growing Businesses
For growing businesses, SAP has developed the scalable, cloud-based SAP Business ByDesign. It is a complete backend solution for fast-growing, mid-market businesses and subsidiaries that want to scale without the complexity and unnecessary cost. It empowers the entire business, from accounting and financials, purchasing, inventory, sales, and customer support all the way to operations, logistics, project management, and human resources.
As a modular, scalable solution, SAP Business ByDesign is fully customizable, includes more than 255 integrations out of the box, and supports businesses as small as 20 employees or as large as 1,500 or more. In a nutshell, this turnkey solution with preconfigured business processes and best practices can streamline business processes, offer greater insight into operations, help you make faster decisions using real-time data, and drive growth and profitability.
Find out more about how Navigator can help you implement SAP Business ByDesign.