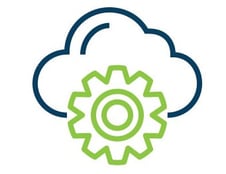 As the cloud becomes the primary model for both IT and line-of-business professionals around the world, a certain amount of refinement and fine-tuning is a healthy part of the process. In other words, now out of its infancy, the cloud is growing up.
Highlighting this trend,
SAP
announced the results of a global survey conducted with Oxford Economics that showcases the fact that the cloud business model has not only become mainstream – indeed, over two-thirds (69 percent) of businesses surveyed expect to make moderate-to-heavy cloud investments over the next three years – but that companies are increasingly shifting from using the cloud for productivity and efficiency to specific business benefits like innovation in supply chain, manufacturing, distribution, professional services, life sciences, talent management, collaboration and analytics.
"The cloud is a very powerful model in which to operate," said Don Whittington, CIO of ASR Group, who participated in an in-depth interview about the company's use of cloud computing. "It is one that lets us eliminate rote work – such as matching orders and balancing books – and enable employees to become more analytical. They can use their time to look for ways to better the business."
In late 2014, Oxford Economics surveyed 200 executives from around the world and compared the results with the same survey fielded in 2012. Respondents work for companies headquartered in 11 countries, including the United States, Brazil, Germany and China, and comprise C-level executives, business-unit heads, and IT and operations executives representing banking/capital markets, retail, consumer products and telecommunications industries. The findings reflect that companies with meaningful experience working in the cloud remain enthusiastic about its potential to reinvent their businesses – and in fact, many say it already has.
Key findings of Oxford's study include:
Cloud strategy is more than here, and SAP is investing heavily: Just about all (99 percent) of survey respondents say cloud computing is part of their company's business strategy today. More than two-thirds (69 percent) of businesses expect to make moderate-to-heavy cloud investments over the next three years, and they also plan to increase their migration of core business functions to the cloud. In fact, within three years, nearly all respondents say that innovation, R&D and supply chain will be "somewhat or mostly" cloud-based.
Cloud has a transformative impact: In the follow-up survey in 2014, nearly one-third (33 percent) of respondents said the adoption of cloud computing has had a transformative impact on their business performance. This reflects a sense that cloud adoption and the changes that come with it are inevitable for businesses. To this point, greater investments are expected across lines of business in coming months and years.
Big Data is getting bigger: Real-time use of Big Data is also growing in strategic importance, with 59 percent saying they use the cloud to better manage and analyze data, anytime from anywhere – a 10-percentage-point increase over 2012.
"As we've long believed, the cloud is far more than a means to lower total cost of ownership; it's a platform for doing business in entirely new ways," said Rob Glickman, vice president, SAP Cloud and Line of Business Marketing. "These survey findings confirm the trend. Early cloud adopters are now seeing strong returns on their initial investments, and they can feel satisfied that their strategy of embracing the cloud is now proving to be extremely beneficial to their business."
Navigator, SAP's top global partner for small-midsize cloud solutions has adopted the cloud in a big way. With more than 100 cloud customers, as well as leading the industry on vertical solutions and innovations, Navigator is a trusted partner, working to make every customer a best run business.
Navigator hosts weekly live demos of SAP's industry-leading cloud ERP products. Click here to join a Free Webinar.