Rolling out a new enterprise resource planning system (ERP) brings many benefits. These include streamlined business processes, a 360-degree view of operations, better financial management, and comprehensive analytics and forecasting, among many others.
ERP rollouts also bring complexity, however.
Implementing ERP is a complex, time-intensive challenge for a business of any size. Because an ERP system will serve as the company's nerve center, a problematic ERP rollout can incur sizable delays, costs and disruptions during the process. According to research from Panorama Consulting, 79 percent of ERP implementations took longer than expected, while 66 percent of companies with new system launches saw operational disruptions.
That same study affirmed that nearly 70 percent of companies are satisfied with their chosen ERP solution. This indicates that deployment issues and expectation discrepancies lie at the heart of ERP implementation struggles.
Understanding the basics of ERP preparation matters. Companies who don't properly evaluate their internal workings before launching the ERP project will be yet another statistic.
Here are six keys you'll want to focus on as you begin rolling out a new ERP system.
Review and Revisit Business Processes
They're called ERP solutions because they are meant to address and resolve business process issues. If you don't conduct a thorough review of how your business operates, then any ERP system you implement may reinforce, not rectify, process problems.
As you revisit business processes, gain insight from department managers and key stakeholders that will be affected by the new ERP system.f
Ask questions. Request our Evaluation Guide
How do your various departments function? How relevant are those functions? Have any specific processes or workarounds been developed? If you have an existing ERP, what are the pain points and how have you worked around those problems?
Study the Workplace Environment
Live a "day in the life" at all management levels. Experiencing every job capacity will acquaint you with the challenges each position faces.
If you haven't held a particular position in a while, you may not be aware of how the role has adapted or changed over time. If your organization moved locations, changed workforce volume, or established a relationship with new vendors, how has that impacted operations?
Are your workers productive and happy? Do they adhere to what you consider to be the established corporate culture? Or is the actual corporate culture something else?
If the workplace environment doesn't lend itself to happy, productive employees, no ERP implementation will solve that problem.
Identify Current and Future Business Requirements
ERP implementation is about priming the organization to overcome current operational challenges and position the company for future growth opportunities. Evaluating current processes shouldn't just stop at remedying issues for today's business needs. To adopt ERP technology is to embrace the future and all of its possibilities.
Think ahead. Plan accordingly. Be prepared.
Consider Financial Limitations
According to Panorama research, the average total ERP implementation costs about 3.6 percent of annual revenue. The 2018 study also notes that its findings doesn't take annual subscription costs of cloud ERP solutions into account.
In addition to providing a worthwhile ROI, the right ERP solution will hinge on internal and external resource allocation for both deployment and ongoing maintenance. If your budget is limited, then the right choice may be a turnkey, industry-specific solution.
Conversely, companies with a larger budget allowance can look for a more customizable product with increased complexity and configuration opportunities.
ERP can take a lot of your budget, but it doesn't have to. If you know your financial limitations, you can plan scope accordingly.
Include Change Management
Any time there is change, there is going to be resistance. It's a simple fact of human nature; change is uncomfortable.
Resistance to ERP implementation, however, will make the process all the more uncomfortable, leading to project delays, additional costs and a failure to fully adopt the new system. The best way to prepare for change and developments is to invest proper time and resources in a formal organizational change management process.
Make sure that you have a common vision for change with no competing or discordant ambitions. Rally executive buy-in and make sure you're collectively extolling the virtues of the case for ERP. Educate and train employees on the changes and their implications. Take steps to measure and evaluate successful and unsuccessful results. Encourage your workforce to take ownership of the role in ERP implementation with a firm reward system.
Determine Quantifiable Benefits
ERP implementation constitutes a huge change in the flow and dynamic of organizational operations. But it's not enough to speak about that change in abstract, ambiguous terms.
Setting realistic expectations for how ERP will help grow your business means pinpointing quantifiable goals, achievements and benefits.
By what percentage will process times be slashed? By what number will workforce need to increase to respond to new business opportunities? What is the projected revenue growth at six months and a year after rollout?
If you know what to aim for, you can more accurately plan and execute how to hit your mark.
It can't be stressed enough how big of a project a new ERP system rollout is for an organization. Such a big, complex project is worthwhile specifically because of the improvements that will give your company the competitive edge. But you need the right foundation in place.
Before making a move on ERP implementation, it is critical that you do the legwork of properly planning and evaluating. This begins with considering internal processes, workplace environment, current and future business requirements, financial parameters, change management needs, and defined quantifiable benefits.
Failing to make these considerations could result in an ERP implementation failure.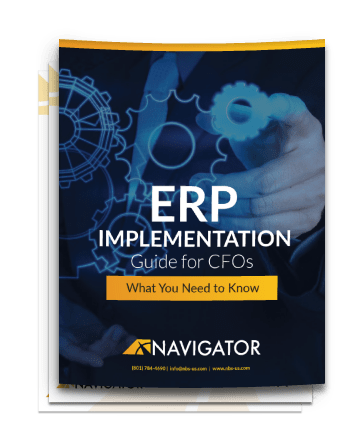 For an overview of the ERP implementation process, see our white paper on the topic, ERP Implementation Guide for CFOs.