Making the decision to integrate new technologies into your company's existing infrastructure is not easy. There is an array of factors to consider depending on your industry type and your organization's size. Not to mention the initial and ongoing costs.
And with any ERP adoption or upgrade, there's also the matter of implementation—which is no small undertaking. With many moving pieces involved, an implementation process will certainly impact the flow of business even if all goes as planned. That fact alone can make for great resistance to deciding on getting a new ERP solution.
Stalling on your ERP decision is not a good option, though.
Many successful businesses have either implemented or are embarking on their process to adopt ERP. Those businesses understand how technological reform has changed the business landscape by offering improved performance, productivity, management, functionality and convenience. And their competitors get it, too.
If your business is still on the fence about ERP, you should know that making an ERP decision is a process in and of itself, and there are several stages along this journey.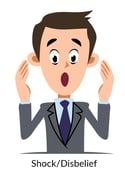 Shock and Disbelief
It's natural to be shocked at the idea that a new ERP system will result in significant cost savings. Especially when you consider what kind of dollars go into such an investment. However, the more you understand the overall benefits, the easier your decision will be.
Over time, ERP systems work specifically to standardizes operational procedures and documentation, streamline financial management efforts, reduce administrative costs and improve inventory control. An ERP solution also can help organize service level agreements with suppliers and centralize customer information to help optimize customer experiences. These benefits result in increased operational efficiency at a comprehensively lower operational and administrative cost by as much as 23 percent. Shocking but true.
It's important to perform an internal evaluation to identify the opportunities in your organization that would see these and other ERP benefits. With this level of awareness, you'll better equipped to choose wisely.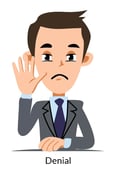 Denial
Once you've made your peace with the savings and costs associated with ERP implementation, you'll likely experience a level of denial regarding the time it takes to complete an ERP project. Approximately 74 percent of ERP projects take companies longer than expected.
Such project timeline denial can stem from a lack of understanding of how key employees will use the system, thus leading to hiccups throughout the project.
Therefore, be sure to involve employees from across the entire organization, including IT, manufacturing and warehouse, operations and finance. This level of engagement will require a lot of time-consuming evaluation and assessment, but it will ensure that implementation goes as smoothly as possible.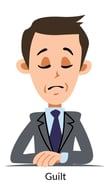 Guilt
If you've experienced problems with ERP projects in the past, or you were staunchly against any sort of tech update, you'll feel some degree of guilt.
Your organization may have previously lacked clear goals or chosen the wrong partner or system among other missteps. Whatever the case, know that you have the power to take those past mistakes, learn from them, and make a smarter ERP selection.
Please understand that you don't have to make your selection alone, and you can lean on your prospective ERP partner as well as resources like our ERP Evaluation Guide to ease your decision-making process.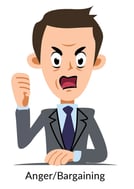 Anger and Bargaining
Speaking of legacy systems, if your current ERP system isn't living up to the optimized work experience end users expected, your workforce may be angry about it.
No team member wants to deal with constant upgrades and patches. Nor do they want to suffer through maintenance downtimes and the strain it puts on conducting business as usual. Let's not even bring up the cost of all these temporary fixes.
Your ERP experience shouldn't be a constantly triggering one. You also should not have to bargain with or compromise your business needs to make your current ERP program work.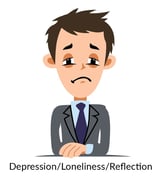 Depression, Loneliness, Reflection
Many companies base their ERP selection on vendors previously selected or what competitors have chosen instead of selecting the system that best meets their unique business requirements. Those companies end up caught in a bad situation, waffling between anger with system inadequacies and a depressing feeling of being stuck with the status quo.
However, there are several ERP software solutions in the marketplace, and you have every right to shop around, keep your options open, and reflect on what solution will be your best fit.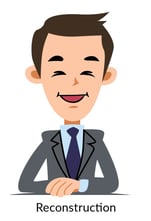 Reconstruction and Working Through It
As you work through evaluating your organization's needs, you'll feel increased confidence about moving forward with your decision. You'll also gain more clarity on relevant costs, timeline and change management needs.
This is not to say that you will no longer experience the feelings associated with these evaluation process stages. Again, ERP is a huge undertaking. But you will make better sense of your ERP project and look forward to an overall smoother and successful adoption and implementation.
You will be better equipped to tackle any other issues or considerations and move in the right direction toward the final stage of acceptance.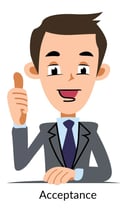 Acceptance
As you fully accept your need for a new ERP, confidence in your decision will grow. You'll approach the project with the knowledge and assuredness that you are indeed making the best business decision and maximizing your potential for future growth and success.
This is truly a feeling of hope. Yes, your ERP project will have its challenges, but you will feel an enormous sense of success at having approached it in the best way possible.
Because your company is unique, your ERP selection process will differ from other organizations in many ways. However, their journey toward arriving at their ERP choice involved maneuvering through these very same stages.
Navigator has aided more than 500 clients in adopting cloud solutions to enhance growth, manage operational costs, and boost sales margins. We also have a proven reputation of spearheading on-time, on-budget, fixed-price implementations.
If you have questions about the process of deciding on a new ERP system, or are curious about the costs and journey involved, contact us at info@nbs-us.com or (888) 670-5369 and we'll be happy to help.
To learn more about cloud ERP solutions, download our guide, Understanding Cloud ERP for Non-IT Executives.