Having a central system that stores and tracks all aspects of a company's operations has always been useful. Big companies have long relied on ERP systems for this reason.
Recently, however, smaller firms also have gotten in on the act. With the rise of cloud-based ERP, centralized comprehensive business process technology has become a lot more accessible. According to research firm Statista, the North American cloud-based ERP market is predicted to be worth $11.1 billion in 2022 with the global ERP market reaching $28 billion.
While cloud ERP has helped make ERP more accessible, it doesn't necessarily reduce the possibility of cost overruns and project failure. ERP system rollout is still a huge undertaking, and getting it right takes both good project management and laying the right foundation.
ERP implementation success hinges on the care and attention to detail employed long before the project begins. The mistake companies most often make is not having a clear and comprehensive understanding of who their company is and how their company operates. The complete self-awareness a company has about its functions, operations and goals is as much the foundation for positive growth in any form as it is for ERP implementation.
Before you consider adopting an ERP system, there are three major questions to consider for a successful rollout.
Do we know what we don't know?
This may seem like a trick question, but what you don't know when first embarking on ERP implementation is what ERP system will fit your business needs. Because ERP implementation is not a regular aspect of business operations, you likely won't even know all that an implementation involves—which is why you're reading this post in the first place. You also won't know what adaptations, adjustments, or refinements may be necessary once implementation begins.
First take the time define your business, departmental functions, functionality needs and overall vision. All of this information will help you determine your business case for ERP implementation and the requirements you'll need for the right system.
Then get external help.
Just as you likely work with external vendors, partners and consultants for normal business operations, your ERP implementation will benefit from outside assistance.
An implementation partner can help guide your company with ERP project management, future system configuration, end-user training and testing, data conversion, and spearheading process and performance improvements.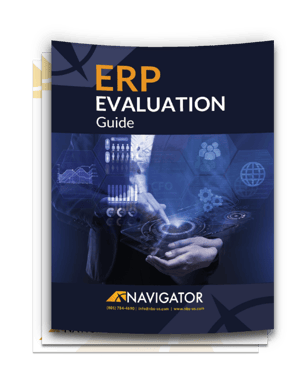 Do you have executive support and buy-in?
Taking on an ERP project is no simple feat, as proper implementation requires planning, solution evaluation, configuration, customization, data conversion, integration, testing and training. But before any of these phases take place, leadership has to be on board to set the project in motion and allocate the necessary resources for project success.
The executive team also must champion the idea of change. Organizational change is often resisted because nobody wants to change their existing habits. So it is up to leadership to generate excitement about undertaking big change by articulating the benefits and value of ERP implementation early and often. And if leadership doesn't understand these benefits personally, they definitely won't spread the gospel of change among the rest of the organization.
This is where research and evaluation come in.
It's important to articulate how an ERP solution can increase scalability, efficiency and profitability by managing an organization's operations end-to-end and delivering a 360-degree view of a company. It's also necessary to point out ROI. Not just in terms of money but also with regard to faster customer response, improved decision making, enhanced workflows, and increased customer satisfaction.
To make sure leadership remains loyal to the cause, keep them informed with regular and thorough updates. A knowledgeable leadership team can respond to any arising challenges and contribute to the overall strategy.
Rallying the troops begins with engaging and involving stakeholders within each department of your business. Because ERP implementation touches every area of the company, a lot of manpower is required to ensure needs and processes are clearly shared and understood. Team members won't get excited if leadership isn't. They also won't change old habits without buy-in and support from the highest levels of the company.
Have you established realistic expectations?
During your campaign to generate support and buy-in among executive leadership, be careful not to oversell, overpromise or underestimate expected outcomes. Getting hit with unexpected costs, challenges and other surprises will not make for ERP project success.
Again, doing your research to properly plan the process and evaluate available ERP solutions will be integral to determining exactly what ERP implementation will deliver.
Building a business case, as mentioned above, will help define the issues ERP implementation is meant to resolve, assumptions about the business and its ERP implementation production, expected costs and scheduling, potential developmental and operational risks, and projected benefits.
Following the business case, assess the system needs and specifications and construct an action plan for implementation with specific tasks, resources, dependencies and timelines for successful rollout.
Planning will involve determining which ERP solution is the most appropriate fit. Because all systems aren't created equal, you'll need to review system qualities such as platform availability, overall capacity, performance, scalability, security, real-time data access and serviceability.
By having a clear understanding of what your company needs, you also will have a greater chance of avoiding the seduction of features that are nice but not necessary, which create project creep.
These three questions help you lay the right foundation for your ERP rollout, and they are part of a much larger list of questions that every business should be asking before an ERP rollout.
We've put together a workbook that helps you define the key questions you need to answer for ERP implementation success. You can download that workbook for free here.