A supply chain--by definition--has a lot of moving parts. It covers everything from the raw materials to the workers creating a product to the final delivery of goods to the consumer. For a business, keeping that chain operating smoothly is fundamental to the firm's existence.
Maintaining the intricacies of a business's supply chain can be taxing, time-consuming work. In the old days, a simple spreadsheet may have done the trick, but that won't cut it in the ever-changing landscape of the modern supply chain that stretches across borders.
To handle market changes and improve the efficiency of your company's supply chain, you need wide-ranging data analytics. This is exactly what you get with enterprise resource planning (ERP) and supply chain management (SCM) software.
One of the biggest benefits of an ERP with SCM functionality is being able to analyze historical data. Since an ERP houses all the information of a business in a single location that is shared across the company, businesses can find patterns and predict what might be needed in the future based off past orders.
That makes managing demand and obtaining materials for production easier. The company won't be caught running low on inputs. Scheduling can be automated and, through the ERP, teams throughout the organization can get a real-time view of what's available. This allows production teams to plan better and optimize more efficiently.
The predictive nature of data analytics--knowing what the business might need and when--can help reduce inventory costs as well, since a company can tell when customer demand will increase or decrease.
Imagine expecting a huge order, but that order never comes, or it's much smaller than was anticipated. A business doesn't need to waste warehouse space on stock there are no customers for. Analytics help a company decide not just what to make and when, but also how much of a product to make.
Sourcing materials comes into play here, too. Knowing when a product will be in demand tells the company when the right, and wrong, times to buy from a supplier are. Synchronizing the efforts of your supply team, your production team, and your distribution team provides a huge boost to supply-chain efficiency.
Finding the right fit ERP software meeting company needs now and supporting strategic growth plans.
SAP S/4HANA Cloud, public edition
Having an overhead view of your supply chain through ERP analytics can bolster your relationship with suppliers and vendors as well. A supplier can see in your ERP when materials are running low. A retail partner can do the same with inventory and adjust accordingly. When there's more collaboration, problems get tackled faster, and supply-chain bottlenecks are avoided.
Don't forget about shipping and distribution, either. Your company might create the best product in the world, but that doesn't do anyone any good if it doesn't reach the customer.
Data analysis and logistics are critical when it comes to shipping your products. At a minimum, the carriers you work with must hit their delivery dates. By utilizing data analytics to track shipments and find slowdowns, those issues can either be sidestepped entirely or learned from so they don't happen again. If nothing else, there is always room to optimize delivery times, and data doesn't lie.
Risk management is the final piece of the supply chain puzzle. Bear in mind, it is impossible to remove all risk from the supply chain. Instead, analytics can highlight known risks and predict ones your business may face down the road.
It is not a perfect system. The world changes fast. Geopolitics play a huge role, as can natural disasters and pandemics. But patterns can be found in historical data, and those patterns can better inform your company about which issues are more likely to crop up, like if an area is more prone to labor shortages, infrastructure outages, or other disruptions.
One way to avoid some of those disruptions is by taking advantage of a cloud-based ERP. While the data is centralized and shared across the system, it is also accessible to any employee with proper access credentials and an internet connect. This allows for a more mobile and informed workforce. The increased visibility of the supply chain gives your team a better way to troubleshoot and strategize.
Analytics help you find both what works and what doesn't in your supply chain. Since your ERP should contain robust, centralized record keeping, it means you can see who is performing at the level you expect. If a vendor, carrier, or even a team within the business isn't pulling their weight, you'll know about it.
Optimizing supply-chain efficiency isn't necessarily pretty, but building a resilient supply chain means you won't be vulnerable to disruptions, and your company can be proactive instead of reactive.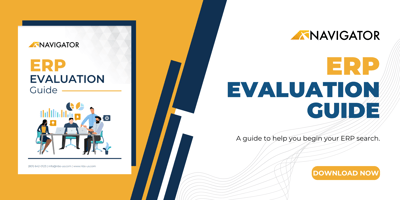 If you're interested in learning more about how ERP can help improve your supply chain, contact one of our experienced consultants at (801) 642-0123 or by sending us an email at info@nbs-us.com.