In the past three years, the biotech sector has seen a boom in venture capital (VC) funding. Research from McKinsey has shown that VCs invested in 2,200 biotech start-ups worldwide in 2016, and that increased to 3,100 in 2021. These biotech companies raised over $34 billion globally in 2021.
These figures show that the life sciences have become more attractive for VCs as COVID-19 drives demand for healthcare-related services. Venture capitalists and other early-stage investors inject their capital into funding innovative firms. Life science and biotech are moving into realms that once belonged to tech, and so traditionally tech-focused venture capital firms are also turning to life sciences.
Emerging technologies such as artificial intelligence are changing the way drugs are discovered and developed, and more biotech startups have adopted an engineering mindset. Investors who may have seen life sciences as too risky in the past are now sensing new opportunities in this sector.
-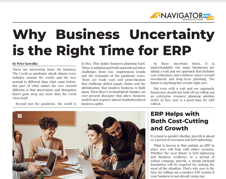 Why Business Uncertainty is the Right Time for ERP
Technology is the Foundation
Early-stage life sciences businesses from biotech and biopharma to health tech are faced with specific challenges as they scale from startup to IPO. They need to grow past pain points by deploying IT as they scale up. The life sciences sector in particular faces significant bureaucracy and regulations, which can slow digital transformation.
Life sciences have embraced advanced technologies in data analytics, AI and machine learning, hyper-automation, and quantum computing to accelerate their time to market and drive innovation like drug discovery. This shows how IT intersects with strategy and operations and plays an important part in business growth and success.
Healthcare and life sciences trends are driving the need for technological advancements, including a shift towards a customer-centric commercial model, new types of collaboration, and improvements to the clinical research development and review process. IT also supports backend infrastructure functionality, powering operations that include email, cloud storage, employee onboarding, and more.
Starting Off on the Right Foot
As an investor begins their due diligence process, they must assess and evaluate existing IT requirements while considering how to power innovation and develop operational scalability and flexibility. It doesn't matter if you're talking about an early-stage medical device manufacturer, a digital health company, one of the many biotech incubators, or some other life sciences startup; IT will need a solid and reliable system infrastructure, as well as high-quality cybersecurity.
However, series A and seed-funded life sciences firms face challenges in striking the right balance between innovation, business operations, and budgetary restraints. They often invest less in IT and put their capital into R&D, which is of course their core business.
But it's incorrect to view IT as a cost instead of a strategy for future growth, and doing so can lead early-stage companies to only focus on their current IT needs rather than looking ahead. Concerns like compliance requirements and intellectual property security may seem like distant issues, but taking a bird's-eye view of the whole journey is preferable to only looking at the path directly in front of you.
Moreover, many life sciences startups in their early stages are focused too much on funding and don't think about IT beyond their initial business plan. With the growth of the industry and the trend of an accelerated development cycle, those businesses could find that they'll need to increase IT investment sooner than they expect.
Choosing the Right IT Partner as You Grow
Most startups in the life sciences space choose to outsource some or all IT tasks. However, if they select mismatched consulting or IT partners, or outsource to low-quality IT procurement and deployment firms, that can result in underperforming IT services and the deployment of systems that cannot reliably scale to the requirements of this complex and unique sector. Ultimately, this can lead to failure when the businesses reach the stage where IT should become a core driver.
It can also derail opportunities for growth, waste time and money, and frustrate workers with inefficiency and low productivity—a nightmare for a business based on innovation.
Be a Magnet for Investors
To attract investor interest, a life science business needs innovation, valuable intellectual property, and a talented team, of course. But it also needs a solid IT system—an Enterprise Resource Planning (ERP) platform that can make company data more visible and offer real-time transparency for auditing during the due diligence process.
A standard ERP solution will ensure that the data provided is trustworthy and credible for investors—in particular for foreign investors who might come from a different geographic region with different laws on compliance and M&A. An ERP platform that supports different currencies and taxes, including accounting and financial systems, is crucial at this stage in the process.
Using the right ERP system will make an early life sciences company much more attractive in investors' eyes, as those potential investors can evaluate their business more quickly than they could an early-stage startup that doesn't use a suitable ERP—or doesn't use ERP at all.
By using ERP software like SAP, designed for use globally, prebuilt specifically for life sciences, and including certified consulting, companies can make themselves attractive to investors, particularly technology VCs, and attract capital from a broader range of countries.
Build an Outstanding Company and Prepare for Investment
Medical device, pharmaceutical, and biotech manufacturers in early-stage startups need to prepare themselves to connect with a global supply chain that requires real-time visibility into demand forecasts. They also need flexible, agile, and transparent supply and logistic networks that can address challenging consumer demands.
These companies require deep market knowledge, strong leadership teams, investment diversity, scalability, promising financial projections, demonstrations of consumer interest, a solid marketing plan, R&D and engineering capability, global regulatory compliance, portfolio and project management, and product compliance.
And device design and engineering, drug formulation and recipe development, clinical trial supply management, real case evidence for proof of concept and prototyping, talent management, strategic sourcing and procurement, and contract research organization collaboration are all important as well.
All these traits in an early-stage startup can win over investors, make your company an outstanding proposition among other candidates, and lead to successful fundraising amid economic turmoil when many investors are cautious.
Learn more about how Navigator can help life sciences companies implement ERP.
(801) 642-0123 | info@nbs-us.com | Contact Us Form