You've probably heard the name, SAP, but you might not actually know what SAP does and why roughly 77 percent of all global transactions come in contact with the software the company makes.
Simply put, SAP makes the end-to-end business software that drives 404,000 businesses across 180 different countries. It is the largest maker of enterprise resource planning software (ERP) on the planet, and it dominates the backend IT systems of Fortune 500 companies along with rivals Oracle and Microsoft. But it also powers smaller firms, with roughly 80 percent of its customer base made up of small to medium-sized businesses (SMBs).
Based in Germany but with a strong presence in the U.S. and elsewhere, publicly-listed SAP is the 12th largest technology company in the world and had revenue of $27.4 billion in 2017.
Why SAP is so Popular
So many businesses run on SAP software because it centralizes and integrates all of the backend systems needed to run a business in a single solution. This centralization drives operational efficiency, reduces duplication and redundancy, and delivers information across departments in real-time for faster decision-making. ERP software also brings access controls and process standardization across a business, a key requirement for growing and world-class organizations.
While data is maintained locally with a decentralized IT system, with individual departments managing data and other parts of the business not having readily-available access, centralized ERP systems maintain all of a company's data and share it across the organization as appropriate. In this way, the ERP solutions made by SAP and others serve as the nerve-center for a business.
SAP started in 1973 as a comprehensive financial accounting system called R/1, but it has since grown into a sprawling solution that includes production, logistics, human resources, sales, customer service, analytics and ecommerce, among others. Every major business function is supported in SAP's ERP solutions, and the company offers both general and industry-specific solutions for fields such as healthcare and consumer packaged goods.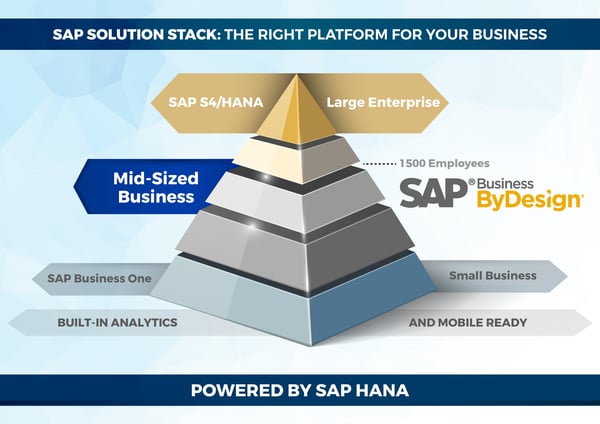 ERP in the Cloud
Because ERP systems cover all aspects of a business, until recently SAP was known primarily as a software provider for large enterprise customers. Implementing and maintaining ERP systems typically cost millions of dollars, and the systems were complex and hard to configure. But that all changed with cloud computing.
Starting in 2001, SAP made the key decision to open up its proprietary technology and make it programmable through SAP NetWeaver, a cross-platform, fully-interoperable, web-based platform that could be used to develop not only SAP applications, but also others as well. This started the company's journey toward cloud-based ERP.
Around that time, SAP also began serving the SMB market with its SAP Business All-in-One and SAP Business One platforms.
These two trends converged around 2007, when SAP launched its SAP Business ByDesign platform, an entirely cloud-based ERP solution for SMBs that greatly reduced the cost and complexity of running an ERP system. The company also launched its SAP/HANA database platform that laid the foundation for what has become its popular cloud-based S/4HANA ERP solution.
While SAP still sells and supports ERP systems that businesses can buy and run on their own, the company and the ERP industry as a whole are increasingly moving toward the software-as-a-service model both for SMBs and larger enterprise customers. This move has made SAP's business software much more accessible to businesses of all sizes. Organizations now can run centralized, feature-complete ERP solutions without having to make a large up-front investment and maintain the technical infrastructure.
SAP for Companies Big and Small
The move to cloud-based ERP has greatly expanded the market for SAP software. While large enterprises have long used SAP's software, SMBs are adopting its new cloud ERP solutions in record numbers as a way to manage an array of ecommerce marketplace connections, manage global supply chains, handle increased privacy and regulatory requirements, and complete with larger firms.
SAP grew by 6.4 percent year-over-year in 2017, and it is on track to sign up more than 10,000 customers for its next-generation cloud offerings by the end of 2018. An estimated 40 percent of these cloud customers are new to the company.
The company's SAP Business ByDesign platform is part of that growth.
Navigator Business Solutions and other SAP-certified partners are building prepackaged industry solutions that further lower the cost and complexity of ERP implementation. These prepackaged solutions built on the SAP Business ByDesign platform are turnkey ERP solutions that come preconfigured with functionality and best practices tailored for a given industry segment.
That preconfiguration cuts costs and helps businesses get started with ERP far more quickly than was possible even five years ago. It also has helped SAP remain a market leader in the face of an increasing array of cloud ERP offerings, because it combines the stability and expertise of SAP's decades of ERP experience with custom solutions for specific industries.
For small businesses looking for an affordable way to manage their entire business as an integrated whole SAP Business One is the platform to make the transition. More than 60,000 businesses around the world choose SAP Business One because it helps small to mid-market firms streamline business processes and gain greater insight into operations.
SAP is a leader in the business software market, and this doesn't look to change anytime soon.