In the increasingly crowded market for cloud-based enterprise resource planning systems that serve SMBs, two offerings typically stand out from the pack. SAP Business ByDesign and Oracle's NetSuite both consistently top the ratings charts when it comes to cloud ERP tools. What is a business to do when it comes down to choosing between two beloved heavy hitters with a catalog of stellar reviews from the midsized business world?
Perhaps the most important part of choosing an ERP tool is finding a partner to help guide your business through the decision-making process. Each system offers its own unique set of features and benefits, but one system or the other is probably a better fit for your individual business objectives and processes. An effective consultant will become a partner throughout the sales and deployment processes, guiding you toward the best choice to meet your specific needs.
That said, if maximum value from your technology investments is important to your midsized company, SAP Business ByDesign is probably the best fit for you. Investing in an ERP system is a large financial undertaking not matter which system you choose, although bear in mind that you'll be replacing the capital costs associated with legacy equipment and software with the recurring and predictable operating expenditures of a cloud-based solution. But it still costs.
So below we'll examine the structural pricing differences between SAP Business ByDesign and NetSuite, and show you why these two ERP heavyweights are not equal when it comes to cost. Along the way, we'll include items like discounts, contractual requirements and add-ons. The only real way to determine which tool is a better value for your business is by examining these nuances.
Overall Project Costs
SAP Business ByDesign is packaged as a suite-in-a-box, including all the tools required for running primary business processes as part of the license. There are no surprises with this ERP system, as popular features are made available right out of the gate with no hidden costs.
NetSuite uses a modular licensing approach, on the other hand, charging extra for certain "advanced" business functions like accounts payable scanning and its Excel add-on. Items also may be discounted as part of the initial contract term, but added on at a significantly higher cost upon renewal.
In fact, two of the chief complaints of NetSuite customers is increased costs upon contract renewal, and new expenses when they choose to scale their businesses and add new features. SAP Business ByDesign is inherently scalable out of the box, enabling customers to access all the important features that will support their business processes and growth without later sticker shock.
Ease of Configuration and Deployment
When it comes to configuring the system and learning it, Business ByDesign is the clear winner over Netsuite. The SAP system features built-in configuration based on best practices, enabling the solution to be deployed quickly and efficiently. In fact, SAP touts its Business Configuration as a "hidden gem."
Conversely, NetSuite uses a template for configuration and any setup complexities beyond that template will typically add time to the consulting and project costs.
SAP Business ByDesign also includes all the key functions and processes required for a growing, mid-sized business right out of the box. This includes a free "sandbox" for testing each new release before it goes live, an important part of any software deployment. NetSuite charges extra for this feature as part of its modular licensing approach.
Support Throughout the Sales and Deployment Cycles
One key difference between SAP Business ByDesign and NetSuite is the level of consultant and company involvement throughout the sales, contract and deployment cycles. SAP has a reputation of working with its consultant partners throughout this process, while NetSuite typically focuses on direct sales and lets its partners sell on their own. So the universe of SAP consultant help is much larger and more robust.
As part of its suite approach to packaging, an SAP Business ByDesign subscription comes bundled with the cost of support, including SAP internal support. NetSuite adds a modular charge for support based on whether it is done by email or telephone. And the company's support hub is based in the Philippines, which has been problematic for some customers (Mabuhay, Jinky).
Licensing and Contractual Nuances
SAP Business ByDesign licensing is fairly straightforward, with flat subscription and implementation fees based on the number of licenses needed. Depending on the length of the contract, that total cost may be broken up into static monthly charges.
NetSuite's total licensing cost varies based on the product configuration, add-on modules and the total user count and duration of the contract. The cost is also billed as a subscription model, and the contract may be renewed annually or over a longer period depending on what the customer is looking for. Bear in mind that initial discounts may no longer apply after the contract is renewed.
While SAP Business ByDesign and Oracle Netsuite are both market-leading products, they aren't both leaders in price. If cost and pricing complexity are a part of your consideration, the choice is relatively clear.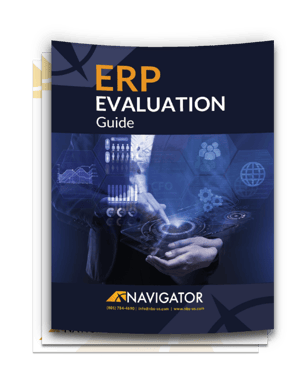 Download a copy of Navigator's ERP Evaluation Guide
For more on the differences between SAP Business ByDesign and Oracle Netsuite, and which might best fit the needs of your business, contact one of our consultants at (801) 642-0123 or info@nbs-us.com.