The benefits for distributors when moving to a cloud based business management (ERP) platform are many; from managing their financial and accounting operations in one place, to regaining insight and control over their procurement, to planning and budgeting, to implementing state-of-the-art distribution and fulfillment and to and through analytics and reporting. In short, everyone wins!
A completely integrated cloud based ERP solution will drive business performance while clearing process and system roadblocks to deliver a smoother more coordinated operation leading to faster growth for distributors and wholesalers:
Cloud based systems are built to keep up, On-premise will fall behind
Theme - Adapt or die. Cloud based platforms are purpose built to adapt to the ever changing demands in the wholesale/distribution industry. Amazon, and now Shopify and others are changing the supply chain execution landscape for small to mid-sized distribution companies.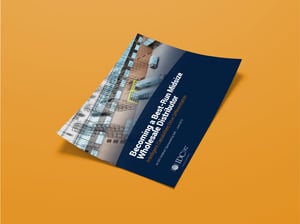 IDC Report Becoming a Best Run Wholesale Distributor
The continuous iterative innovation that is available through cloud based platforms simply can't be replicated through an on-premise implementation of a business solution. Today's wholesale distributor needs to focus on supply chain optimization and meeting customer's expectation rather than spending their resources on maintaining internal ERP/Business Management systems.
Cloud based solutions provide a cost effective point of entry to the current and emerging technologies that are being put upon the entire industry. The interconnectivity of EDI, eCommerce, Amazon Vendor Central and other marketplaces becomes cost prohibitive when attempted through on-premise technologies. Start to introduce IOT, Machine Learning and AI and the layers of complexity from a human resource and financial perspective become un-supportable on-premise. These are all the areas with the promise of "cloud" have begun to be realized in the last two years.
Simply put - small to medium-sized distributors need the competitive edge provided by flexible, scalable software. A modern cloud-based ERP solution provides that edge today and into the future.
Warehouse and Operations Integration
Poor inventory management and lack of visibility within the warehouse is one of the main reasons distributors struggle to improve profitability and drive growth. Distributors live in a world that demands a balancing act on a fine line between too much and too little inventory, having the right inventory at the right place and having it there at the right time. Without clear real-time information and visibility profit margins shrink and spending will increase.
Your warehouse can be your secret weapon in driving growth. It is a key piece of your business and it is crucial that its systems and information are seamlessly integrated as well. Inaccurate or delayed information leads to missed orders, overstock, returns, unhappy customers and lost value. Increasingly it is your window to the overall external supply chain, whether it be through your eCommerce site, your own stores or a third party fulfillment operation like Amazon Vendor Central.
When Warehouse Management Software (WMS) is connected directly to your ERP, visibility, efficiency and speed grow. The two solutions working seamlessly together improve data accuracy. Once data is put in the system all data automatically updated throughout the organization. In addition to saving time and removing double entry tasks, decision makers throughout the company have a clear, real-time view of the supply chain including access to receiving, put away, good receipts, replenishment, vendor & customer returns, ordering, picking, shipping and reporting on physical and cycle counts.
Sharing is Caring for the Whole Company
In today's Digital Transformation landscape, accurate data is king! Data and more importantly accurate information becomes the lifeblood of a company. Enabling employees in all reaches of the organization requires timely access to relevant information to execute successfully and provide more value to the company. An integrated cloud-based ERP system stands as a single source of data truth, providing real-time access to consistent information. Direct access to information allows employees at all levels of the organization to plan, optimize, and deliver an efficient and effective experience for your customers. Imagine enabling a sales person to immediately answer customer questions directly from product availability, pricing and discounts available, suggesting complementary products and then viewing credit and payment histories to deliver a high quality customer experience, while freeing other resources to focus on high value projects. This is the world that a cloud based ERP solution delivers.
At the end of the day, your distribution business needs to serve the ever-changing demands of your customers. An integrated cloud-based ERP solution (rather than adding one more piece to an old network) will transform your business through improved back-office functions, inventory optimization, streamlined processes, automatic updates, clear pricing models, and the real-time visibility to better understand and take advantage of profitable opportunities.
Not all ERP systems are created equal, nor do all ERP systems fit all organizational needs.
Distribution companies come to Navigator Business Solutions, when they are trying to grow and their processes and systems are holding them back. Our expertise and scalable cloud-based ERP and WMS solutions allow companies to meet their current needs and the future demands of their customers.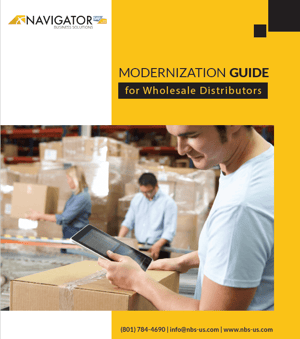 Download your free copy