Small to mid-size distribution companies are at a crossroads. Most have traditionally been in the business of fulfilling substantial orders for large companies and big-box retailers. But the coronavirus pandemic and a volatile global political climate have altered the supply chain over the past year, forcing major changes in the way distribution is carried out.


Even before that, online commerce had upended retail, driving some retailers out of business while forcing others to radically change their traditional distribution models. Distributors can no longer rely solely on their usual lines of business, and have had to diversify to keep up with this shift. Many have moved into the business of handling smaller, more frequent orders for companies like Amazon.

This new model requires granular data from all points in the supply chain. Collecting and managing that data can be one of the biggest challenges for smaller distributors hoping to remain competitive in an increasingly digital global marketplace.
Why Data Matters
The trend toward smaller but more frequent shipments for online commerce began five to seven years ago, according to Ralph Hess, vice president of sales at Navigator Business Solutions.

"Companies that were selling to big-box retailers—and that was obviously very low margin business—started to get the opportunity to do some drop shipping for Amazon and eBay," says Hess. "So they were able to do onesie and twosie shipments doing the fulfillment and making a higher margin."

This modern approach has created complexities and headaches, however, because distributors are tasked with managing a wide range of global orders and shipments. Businesses that don't have the proper tools and data to streamline the fulfillment process will run into logistics challenges.

"Hence the need for a more robust business management platform," says Hess. "An intelligent digital core is the common name for it." Businesses relying on manual and often outdated processes for managing inventory, fulfillment and shipping simply lack the data to keep up with the logistics required by the global digital marketplace. A central, intelligent solution that integrates and automates back-end processes can aggregate and analyze data to help distributors maintain agile and efficient operations.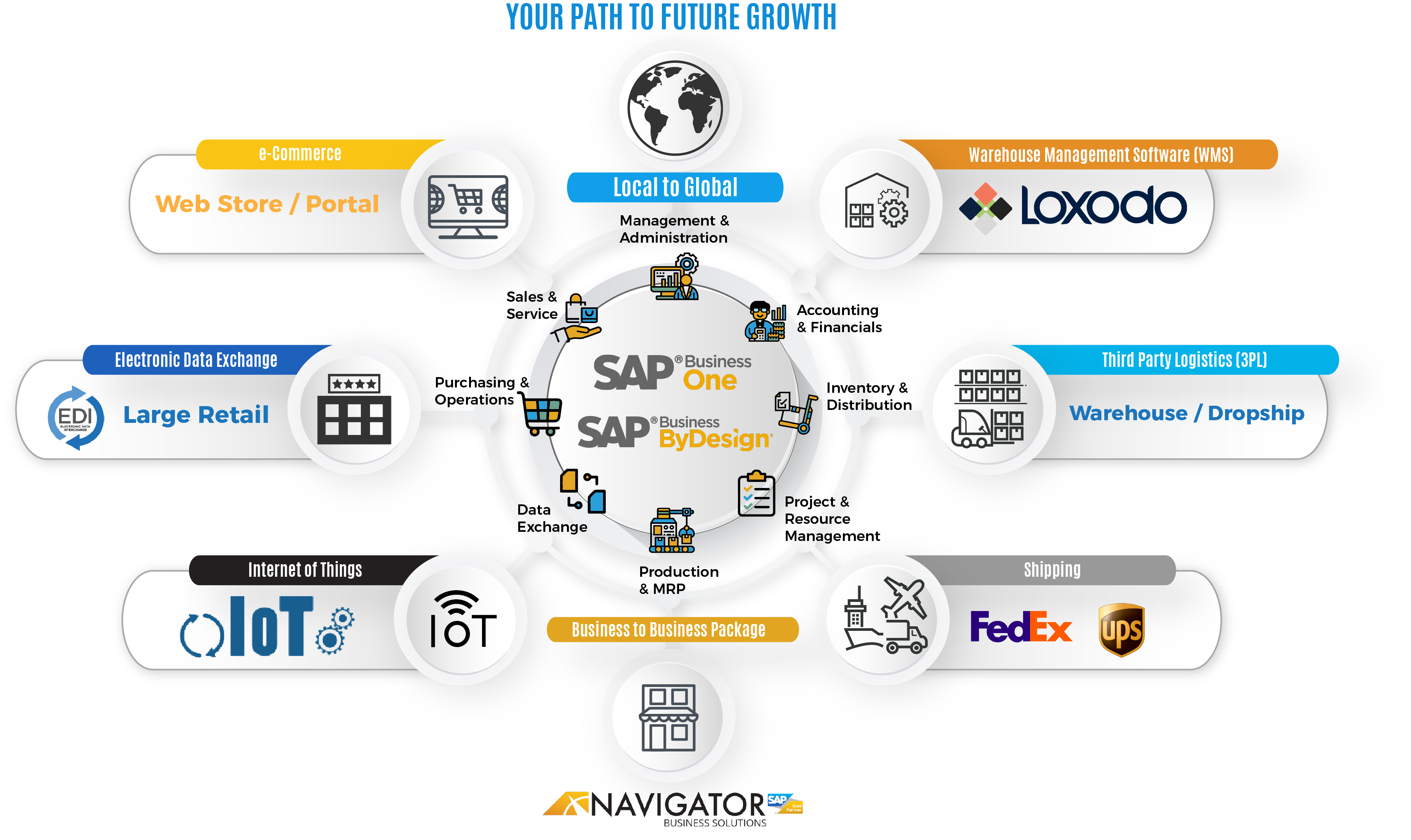 ERP Helps Distributors Create an Intelligent Digital Core

An enterprise resource planning (ERP) solution can give small distributors the competitive edge they need to play in a changing global landscape. ERP puts intelligence at the core of business operations and gives distributors the tools and data they need.

The data that ERP can provide will prove valuable to distributors in a number of ways:

1. Data Aligns Operations with Business Growth

Long-term business strategies and growth often take a back seat to the more pressing complexities of keeping a business running smoothly. An ERP solution can address both the short-term and long-range challenges businesses face.

With ERP, all aspects of business are integrated efficiently so that distributors can run a tight ship. In the process, the ERP solution will provide key data and metrics that businesses can analyze to increase their operational efficiencies and competitive insights to help shape future business plans.

2. Data Creates Deep Customer Insights

As distributors become more deeply entrenched in the digital marketplace, they find themselves more directly responsible for customer satisfaction. They also need to make sure the massive companies they're working for, like Amazon, are happy with the level of service they're providing.

A centralized ERP solution provides the data necessary to ensure customers are satisfied across the entire supply chain. It can also provide intelligent analysis of customer data to boost engagement and more quickly resolve issues and concerns.

3. Data Facilitates Employee Empowerment

Most businesses want to attract and retain the most talented workers available. The data available from ERP solutions can offer valuable metrics about how workers are performing and can pinpoint areas that need improvement. Data can also be used to foster collaboration or offer bonuses and incentives—and that all contributes to an improved corporate culture.

4. Data Drives Innovation and New Lines of Business

Distributors, particularly small ones, must remain agile and innovative to be competitive. ERP offerings provide the data required to effectively pursue new lines of business and other opportunities for growth. That data can also drive innovation to further improve operations and prepare a business for long-term stability and success.

5. Data Makes Smart Technologies Possible

The data gleaned from an intelligent ERP solution may be used to automate and improve all aspects of a distribution business. The Internet of Things (IoT), machine learning, advanced data analytics, and mobility are all important technologies that require the sharing of data through a centralized solution like an ERP offering.

Distributors must diversify and transform their operations to be successful in today's digital landscape. Data is the key to that success and an important part of maintaining an agile and intelligent digital core.
A comprehensive ERP solution configured for Distribution can provide the integration and data necessary to create and maintain a strong digital core. It's a powerful tool to help any small to mid-sized distribution company meet the challenges of today's digital marketplace.