The horror stories are enough to make any business think about sticking with their existing legacy ERP system instead of upgrading to something new.
Back in 2000, Nike lost a reported $100 million in sales when it failed at a supply chain upgrade project, and a series of lawsuits coupled with a 20 percent dip in its stock price only added to the misery.
A botched ERP implementation in 2004 left 27,000 University of Massachusetts students unable to register for classes or collect financial aid.
Then there's the story of chocolatier, Hershey's, that couldn't deliver chocolates right before Halloween in 1999 because its ERP implementation failed. In that case, the company's stock price dropped 8 percent after the operational disaster. This one turned out to be a sweet success.
Many ERP implementations fail, reportedly as high as 75 percent of those undertaken. That's because ERP systems sit at the heart of a business, making any new rollout a complex undertaking in technology and business processes.
But there's another reason why ERP implementations fail: poor due diligence when selecting an ERP system.
Self-Evaluation Matters
The failure of due diligence isn't usually from picking a badly designed ERP solution. More often, the failure comes from not properly understanding the needs and situation of the business requiring the software. There's no one ERP solution that is right for every business, and much of the work when evaluating ERP solutions is taking a hard look at what a company needs and how an ERP system will fit in with existing business processes, budgetary constraints, available resources and organizational structure.
There are several areas that a business must understand about itself before it can properly choose the right ERP solution.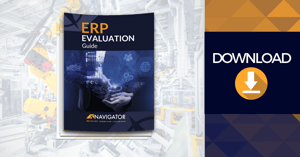 Basic Company and Operational Details
The new ERP solution will serve as the nerve-center for your organization, so you cannot evaluate and select the right system without first defining your business, its structure, and how it operates. The right ERP solution for a consumer packaged goods distributor will differ from that of a medical device manufacturer, for instance, and a medium-sized business will have different needs and budgetary constraints than a Fortune 500 company.
Current Software Situation
Your new ERP system likely will replace or augment many of the software solutions currently used within your organization. Understanding current software usage therefore is important for choosing an ERP solution that meets the needs of your business.
Assessing your current software situation also is important for understanding the integrations that your new ERP system will require, and how much customization, if any, will be necessary for maintaining essential operational workflows. These factors can play a large role in defining which ERP solutions are most appropriate for your company.
Deployment Timeline and Project Goals
For some organizations, an ERP deployment is a scheduled systems upgrade with a large window for project completion. For other firms, rollout is an urgent initiative necessary for growth in a new market or meeting a sudden regulatory need.
Further, all ERP solutions serve as a system of record, but each system has strengths and weaknesses. When evaluating ERP solutions, you need to establish the specific goals and process improvements your organization hopes to achieve by adopting the new system. This helps you define which solutions can best meet your needs.
Factors such as ease of deployment, scalability, vendor size and whether an industry-specific solution is necessary come into play depending on your project goals.
Evaluation Specifications
With a firm understanding of your organization, and defined needs and goals for the deployment project, the second major phase is answering key questions necessary for evaluating the various ERP solutions on the market.
Questions you should answer include who will select the system, who will use it, what features are necessary for meeting the goals of your organization, what resources and budgets will go toward the project (including external consultants), and how long various solutions will take to implement.
A Thorough Assessment Pays Off
As you can see, the features your business needs from an ERP system are only a small part of the overall ERP selection process. They are an important part, but only a small part of the work necessary to really choose the right system and lay the groundwork for a successful ERP implementation.
While there are many factors that go into a successful ERP deployment, the ultimate success or failure of an ERP rollout often rests with this self-evaluation during the selection process. Businesses that shortchange the process and take a shotgun approach to selection pick the wrong solution or go into the project on the wrong foot, while firms that have thoughtfully assessed the situation within their company and taken this knowledge to the ERP selection process have a much greater rate of success.
Get a Leg Up with Our Evaluation Guide
Because the questions you ask about your business matter greatly to the overall success of a new ERP implementation, we've put together a vendor-neutral ERP Evaluation Guide that walks you through all the questions you should be asking before choosing an ERP system.
The questions in the guide are the same ones we ask when helping clients make an ERP system determination, and they walk you through everything you need to properly pick an ERP solution that is right for your business.
If you're currently embarking on a new ERP project and are still in the selection phase, please download our ERP Evaluation Guide and spend the time going through each question. It will make a world of difference later on in your implementation journey.