When a startup starts shopping for enterprise resource planning (ERP), they might be surprised to discover that dozens of solutions are available on the market.
In the end, few will be the right fit for the startup. Nevertheless, with so many products available, startup management often will have a tough time determining which system is the right choice. Selecting the right solution involves more than simply picking one that comes with a lot of bells and whistles.
Here are some considerations to think about that help you narrow down the options and select the right system.
The Nature of Your Business
Not all solutions are created equal. When looking at ERP solutions, your overall goal should be to find a system that will cover most, if not all, of your business processes. Life sciences and biotech companies, for example, have to meet strict regulatory and validation requirements, so the needs for businesses in this sector are distinct from those of other industries.
If you're a commercial enterprise that operates in manufacturing, production, and distribution, you'll likely want plug-ins for your system that can cater to your specific needs and offer minimal implementation lead-time. Industry-specific ERP solutions absolutely address this kind of need.
For some businesses, however, industry-specific solutions are not available or a more general-purpose ERP system might make the most sense.
Begin with your industry needs and those of your specific business.
The Stage of Your Business Growth
As a startup, you may have a smaller budget than an established business. In that case, the best bang for your buck might be a cloud-based ERP solution that allows you to begin small and grow later.
If funding already is in place or you're a more developed firm with processes and people already fully developed, however, you might need specific functionality or solutions that meet these clear and developed needs.
Ultimately, you want to compare cost and value. A higher price tag doesn't guarantee greater value, and you don't need a system loaded with a ton of features you may never use. Calculate your anticipated return on investment for any ERP platform you are considering, and focus on your core needs of the system instead of all the possible things the solution could do when calculating value.
Price-Range Restrictions
Keeping the previous consideration in mind, you need to look at your own funding and the nature of your startup to determine if you even can get the system you ultimately want. Sometimes you might be approaching ERP implementation too early in the process, or the nature of your business cannot support an end-to-end ERP solution even if it would be "nice to have."
Many small businesses make decisions based on their needs for only the immediate future. Since you'll be using whatever solution you implement for a while, you should also think about where you plan to be with the business in the next few years so you know how much to invest now and how much is beyond your ultimate price range.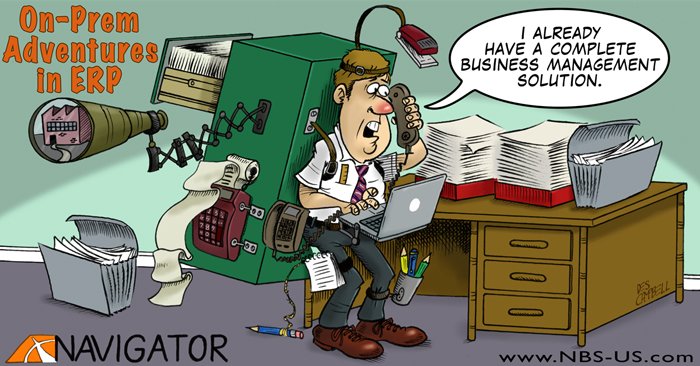 Company Resources
As a startup, you probably want a system that will be agile as your business grows. Over time, you may find that you have departments, processes, or operations you will want to change.
Since your resources may change a great deal in the next five or so years, look for an ERP system that can help you achieve both current and future goals. Most startups hope to eventually compete with larger companies, so there's a strong case to be made for implementing the most modern system possible to keep pace with them.
For this reason, many early-stage companies prefer a comprehensive but off-the-shelf solution that comes preloaded with features they need rather than a customized platform.
Your End Users
Before selecting a system, consult with the employees who will be using the ERP platform. The overall goal is to streamline processes and improve operations, and your people will be able to identify their own pain points and the ways in which their workflow could be improved.
Employee buy-in will hinge on whether the new platform is intuitive and easy to use. Staff will require some training to use the system, and as a startup you don't want to have to invest a lot of time into this phase of implementation when you have so much else to do. The easier the system is to use, the easier it is to learn.
Hard But Possible
Startups are constantly facing new decisions, and it's not easy to select the right ERP solution if you're unfamiliar with the systems and features.
With that in mind, we've developed a free workbook that will help you figure out which ERP system is right for you. You can download it here.
If you'd like help with the process, you also can talk with one of our experienced ERP consultants by calling (801) 642-0123 or emailing us at info@nbs-us.com. We're happy to help you get clarity on what system will be the right choice for your startup.