The BIO International Convention attracts 14,000+ biotechnology and pharma leaders for one week of intensive networking to discover new opportunities and promising partnerships. Navigator Business Solutions will be attending the 2023 Bio International Convention in Boston, MA June 5th - 8th.
We encourage you to stop by and say hi to our team at booth, #3074.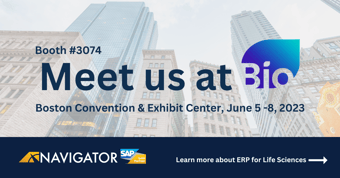 How does Navigator Business Solutions support biotech and pharma organizations?
Life Sciences and Biotechnology organizations come to Navigator Business Solutions when they find their ability to scale and meet the compliance rigors of the regulatory environment is being limited by their current business processes and systems. All have outgrown their business systems (i.e., Quickbooks and Spreadsheets or Legacy platforms) and find that they are unable to support the company's growth and strategic objectives.
As an SAP Gold Partner, and one of the top SAP implementation partners in the world,
Navigator focuses on helping small and mid-sized companies deploy cost-effective,
cloud-based ERP solutions.
Our proven approach provides customers with both the experienced leadership and
industry knowledge to support growth, change, and validation while reliably controlling back-office costs and improving operating margins. Navigator has maintained SAP Gold Partner status for more than 15 years.
Navigator Business Solutions is there to help you focus on science by taking care of your back office and supporting you as a company.
Here are some helpful resources to learn more about ERP for Life Sciences and Navigator:
Navigator Business Solutions' industry-specific solutions and validation services provide documented evidence that your ERP solution is configured to meet your defined company processes and official regulatory standards.
Validation is required for computer systems that manage, control, and track the manufacturing and distribution of medical devices and pharmaceutical products.
Read 'How do I validate our ERP system?' or visit our 'Validation Services' page.
Ready to see the solution in action? Watch an ERP Solution for Life Sciences overview demo now!