ERP systems are complex and marry deeply with your business processes, even cloud-based ERP solutions built as turnkey solutions.
This makes ERP evaluation tricky, because you first must have a solid grasp of the needs and current situation of your business.
One mistake that businesses often make, especially SMBs, is jumping into the vendor evaluation process before laying the right foundation with a thorough audit of needs, current business processes, project requirements and other key variables around the organization. Before you evaluation ERP vendors, you basically first must evaluate your business so you go in understanding what is important.
This task of preparing for the evaluation process takes some time, but it is well known and both vendors and ERP implementation partners have been developing best practices around this phase of the ERP journey for decades.
Here's where you should start.
Needs Assessment
The very first step is understanding your company thoroughly and thoughtfully mapping out four key areas.
Don't build this understanding in a vacuum, however; seek input from management and key stakeholders in each department that will be affected by the new ERP system. Stakeholder input is perhaps the single biggest indicator of ERP deployment success, and that input should starts during the needs assessment phase.
The four areas you'll want to define:
Company basics. The new ERP solution you pick will serve as the nerve-center for your business, so you cannot evaluate and select the right system without first defining your firm, its structure, and how it operates. The right ERP solution for a consumer packaged goods distributor will differ from that of a medical device manufacturer, for instance, and a medium-sized business will have different needs and budgetary constraints than a Fortune 500 company.
Current software situation. The cloud ERP solution you ultimately select will likely replace or augment many of the software solutions currently used within your organization. Understanding current software usage therefore is important for choosing an ERP solution that meets the needs of your business. It also is important for understanding the integrations that your new ERP system will require, and how much customization, if any, will be necessary for maintaining essential operational workflows.
Deployment timeline. For some businesses, an ERP deployment is a scheduled systems upgrade with a large window for project completion. For other firms, rollout is an urgent initiative necessary for growth in a new market or meeting a sudden regulatory need. Understanding the needs around project timeline and the cost of not hitting that timeline can play a role in defining which ERP vendors and support partners will best serve the timeline for the project. There's a big difference in timeline between a prepackaged industry solution and a highly customized cloud ERP system configured from scratch.
Project goals. ERP solutions vary greatly, so you can't select the right ERP vendor until you first know your specific goals and process improvement needs. Factors such as ease of deployment, scalability, vendor size and whether an industry-specific solution is necessary also come into play depending on your project goals.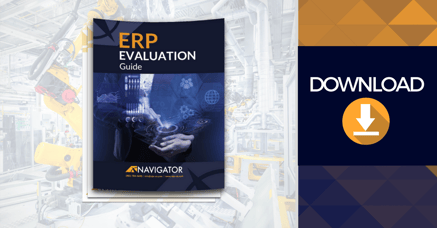 Evaluation Specifications
Once you understand your company and its needs, you're not done with the prep work before evaluation. You also need to answer key questions around your evaluation specifications and approach. These questions include who will select the system, who will use it, what features are necessary for meeting the goals of your organization, what resources and budgets will go toward the project (including external consultants), and how long various solutions will take to implement.
There are six areas you should look at:
Decision process. What is the evaluation process and who makes the final decision? What stakeholders need to be consulted during evaluation?
System access. Business often mistakenly assume that all employees will use the new ERP system. Not all employees need access, and your organization also might find it beneficial to give rights-restricted access to key external partners. So look at each department within your organization and define who will use the system and how many total users will need access.
System requirements. The heart of your ERP evaluation is defining the processes and functionality required of the new system. This also is where you start defining your shortlist of ERP solutions before selection, and it helps map out the internal and external resources you will need for deployment.
Project resources. The right ERP solution depends not only on the needs of your organization, but also the internal and external resources allocated to the deployment project and the ongoing maintenance of your ERP system. Defining your ERP project resources is therefore key both for ERP solution evaluation and planning your deployment.
Consulting needs. Even cloud-based ERP deployment benefits greatly from consultants who can lend a helping hand. ERP projects are always significant and benefit from best practices. As part of your ERP evaluation, you will want to look at what you need from external consulting for properly rolling out your cloud ERP implementation.
Project timeline. Finally, establish your timeline for the project. Implementation times vary widely among ERP solutions, so understanding the speed of deployment for a given ERP solution can help clarify the importance of evaluation factors such as prepackaged industry solutions vs. custom configuration and the relative need for external implementation support.
Laying this foundation prior to evaluating vendors is critical for making the right choice and not getting bogged down during selection. Many ERP implementations fail, and not having the right foundation during cloud ERP evaluation is where the problem often begins.
So evaluate your company and the project before you start evaluating cloud ERP providers. The cloud ERP evaluation process starts long before you actually look at the various solutions on the market.
If you need help with this process, we've developed a comprehensive workbook for defining and answering the key questions before making an ERP selection. In the workbook, we go over each area covered in this article and give you specific questions you should answer when preparing for a cloud ERP evaluation.
Download our complete ERP Evaluation Guide for free, and good luck on your journey. This document contains all the in depth questions solutions providers are likely to ask to better know your business.