Until recently, it was possible to track your inventory and make reasonably appropriate decisions with simple tools such as spreadsheets. But with a significant shift to e-commerce and omnichannel sales, inventory management has gotten more complex and tricky.
If you find yourself "reasonably" handling inventory management but operating with the sense that there is a better way, you're right. There is a better way. You need a more robust system for managing inventory than spreadsheets and archaic software developed for a simpler age.
E-commerce provides endless opportunities to connect with customers, and sales and marketing are becoming ever more adaptable to consumer needs. More touchpoints to connect with customers mean more opportunities to gather data which can transform your inventory management into a strategy, rather than an expensive gamble.
With increased e-commerce and omnichannel sales, it is critical that your inventory management strategy is in tune with your sales and marketing teams. Inventory purchases should be informed by data across all channels, which means you need a robust way to track them.
The path forward for better inventory management usually involves a modern enterprise resource planning solution (ERP) to integrate siloed workflows, track both sales and inventory in real-time, and link the two together more efficiently than is possible with spreadsheets and standalone business systems. ERP solutions serve as a single source of truth for a business, and this is critical for effective inventory management in the digital age.
Here are three areas where ERP solutions can improve inventory management.
If your company is still in a startup phase, or has simplistic inventory tracking processes, it can be difficult to forecast trends in supply and demand especially across multiplying SKUs. But tracking sales accurately across SKUs is critical, since it has a big impact on efficient inventory management.
Do you have your benchmarks set for automated reordering? Are you able to flex those processes for different items? You need a software system that can handle unlimited lot and serial numbers, and generate sales reports for multiple channels. This will enable you to not only collect data but act on it. Rather than keeping cash tied up in a safety stock you can plan ahead for peak buying times and customize forecasts for different items. ERP helps with that.
This data from having a robust ERP solution in place also helps with developing contingency plans for supply chain breakdowns, something that has become an even greater priority during the Covid-19 pandemic and shifting relations between China and the U.S. Having contracts with a range of suppliers, and a plan in place to mitigate customer dissatisfaction during a disruption, helps reduce the pain from supply chain breakdowns. But good planning is only possible if there's an accurate picture of the business and where weak points exist.
Are you accurately tracking where your inventory is stored, and managing internal supply chains effectively? Automated benchmarks such as low stock alerts and reordering rates are a good first step, but in order to be effective, they these processes require periodic re-evaluation.
Improving the layout, storage, and handling processes of your warehouses also can lead to huge improvements in cost savings and customer satisfaction. Trend forecasting informs this process so you're not moving chess pieces around blindly, and ERP assists with easily building these forecasts from your actual business data.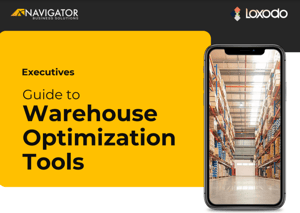 Real time reporting will help you determine if your storage strategy is truly working. Maybe certain low-demand, high-value items could be stored in different warehouses. Maybe there's a bottleneck in manufacturing that could be addressed by tweaking your processes. Maybe the layout of your warehouse needs to be revised to create a more efficient flow.
Tracking this information can additionally help you decide if warehouse storage is the right approach, or if other fulfillment methods can better serve your customers, such as
cross docking
or third party management.
With an effective ERP software you'll also be able to identify personnel or storage issues and address them as they arise. The supply chain is multifaceted, and your tools should be, too.
Most importantly, ERP can help you profit from your inventory. Implementing best practices and tracking KPIs in your purchasing and storage processes should result in increased profits. Firms that use inventory management software such as an ERP solutions report between a
33 percent and 66 percent savings
in time spent managing inventory, for instance.
ERP solutions help enforce consistent inventory processes that can help with profitable inventory management, and make it easy to reliably track KPIs and spot ways to tighten inventory on hand.
Real-time tracking of inventory also is possible with ERP, both through accurate current inventory counts and integration with RFID tags, inventory barcoding, and other real-time tracking technologies. With real-time accuracy, inventory can be managed more closely for more profitable operational margins.
If all of this sounds good but you're not sure where to start, or the case is compelling but you're still unsure if a systems upgrade is necessary, talk with one of our ERP consultants by calling (801) 642-0123 or emailing us at
info@nbs-us.com
. We've been helping businesses quickly and efficiently put the right ERP systems in place for more than 25 years, and we can both answer questions and help you figure out where to start.