Choosing business software has gotten much easier thanks to the cloud. But ERP (Enterprise Resource Planning) selection shouldn't be among those packages you decide upon quickly.
In the not too distant past, software selection was a time-consuming process that required a needs assessment by the department requesting a new solution, and help from the IT department to make sure the solution worked with existing hardware within the company or new hardware could be provided.
Then came the cloud, and now employees no longer need the IT department in many cases. Because software is hosted by the cloud provider, hardware needs and software setup cease being an issue. The usability of cloud solutions and easier integrations with other cloud solutions via APIs also mean that employees often can set up their new cloud-based business software by themselves.
The cloud has truly made business software selection easier and do-it-yourself in many cases, with employees conducting some basic research, selecting a product, and getting stuff done with the new solution in a matter of days or weeks. If the new software doesn't work as desired, the employee just selects another cloud solution.
The problem is that ERP system selection doesn't work this way.
Don't Try ERP Selection At Home
Cloud-based ERP has dramatically improved costs and implementation times; research from PricewaterhouseCoopers' Strategy& has found that cloud ERP costs less than half the price of its on-premise counterparts over a 10 year period, and implementation times typically take between 4-8 months instead of 12-36 months. But the fact that cloud-based ERP still requires a minimum of four months for implementation signals something important: ERP systems are complex, even when hosted in the cloud.
This complexity doesn't start at implementation, either—it starts with choosing an ERP system.
ERP systems, unlike standalone business software such as accounting packages or marketing automation solutions, sit at the center of a business and connect with all or most of the other software used by a company. These include web apps and on-premise software.
Business processes also are affected by ERP selection because the software is involved with most of a company's processes to some degree.
This makes ERP something akin to the nerve center of a business. And you can't just rip out a nerve center and easily replace it with something new.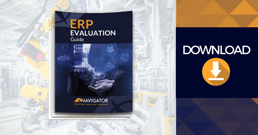 That's why a shotgun approach to ERP selection won't work. Before you choose an entirely new solution for the core of your business, you need to carefully understand the needs of your business, its current IT situation for integration purposes, as well as the pros and cons of the ERP solutions on your shortlist.
This ERP evaluation process should include a thoughtful review of your company and how it operates currently, the current software situation, your timeline for the new system, and the goals you hope to achieve from a new ERP system.
You also should have a decision process in place for how a new ERP will be selected, since it will impact virtually everyone in your business. You additionally need to figure out who will be accessing the system, understand your technical requirements, determine the time and budgetary resources that will be put to the ERP rollout, and assess what outside support might be necessary for reaching your goals.
ERP Selection Should Take Time
This is not a quick process. If you are choosing a new ERP system in a day or a week, you're probably doing it wrong and not fully assessing your company's situation or the ERP solutions on your shortlist.
The model for choosing a standalone cloud software solution does not apply to ERP, because ERP is not a standalone system. ERP solutions are the opposite: they connect with everything, and that makes both the software and the evaluation process complex.
So a lengthy ERP selection process is a sign that you're doing it right. It should take time!
This does not mean that choosing an ERP system must be difficult, however. There are dozens of ERP solutions on the market, and an even larger number of specialty offerings for specific industries. But there also is a well-established support community for assisting businesses with ERP evaluation, implementation and ongoing support.
A good ERP consultant can help you make sense of the various offerings, and assist you with that very important evaluation assessment so nothing is missed and a proper evaluation is conducted. A good ERP consultant also can break down the process into manageable steps so it isn't overwhelming.
Over the past 20 years, we've helped more than 500 companies select and implement the right ERP system for their business. So if the seemingly simple task of choosing an ERP system suddenly feels hard, contact us for a free consult and a helping hand.
Also download our free guide for making the ERP selection process easier. We've put together a workbook that walks you through the key questions you must ask as you make your way through the ERP selection process. If you are currently evaluating your options, you definitely will want our evaluation guide.