Today, biotech and life sciences companies play a crucial role in the global medical supply chain. But life science businesses are complex, especially after product development when scaling operations is critical.
Startups that implement ERP solutions from the very beginning have a distinct advantage throughout the scaling journey, as TriRx and other life science firms have found.
ERP enables young life science firms to control and manage operations from a single system, and it brings the IT systems foundation needed for scaling.
Below are some key benefits of ERP for life science startups.
Manufacturing Support
With ERP, life science firms use one system to manage all aspects of manufacturing, such as planning, scheduling, procurement, production, shipping, and inventory.
ERP allows businesses to organize and refine the entire supply chain, along with minimizing redundancy, automating processes, optimizing operations, among other advantages.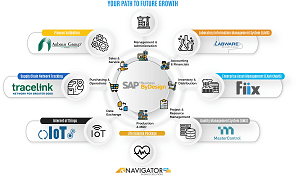 Quality Control and Compliance
Quality and compliance management are paramount for life science firms that must often navigate strict regulatory requirements mandated by the FDA and other regulatory bodies.
Life science firms are better able to strictly manage quality control and handle serialization and batch tracking with an ERP system that centrally manages all aspects of a company's operations.
Startup life science firms also get a leg up on the mandated systems validation process when they used a prepackaged industry solution that has been pre-validated, such as one of our SAP Business ByDesign prepackaged industry solutions for life science firms. More on why this matters in our article, Cut the Cost of FDA Validation with a Prepackaged ERP Solution.
Complete Financial Management
Many businesses start with spreadsheets for financial management and move on to QuickBooks. But QuickBooks isn't enough, despite its marketing material.
Life Science startups need robust financial management software that is able to handle multiple geographies, multiple sales channels, robust reporting and integration with third-party supplier systems. ERP easily handles all of this, whereas less complete solutions such as QuickBooks do not.
For more on the differences between QuickBooks and ERP, download our free ebook, Comparing QuickBooks with SAP Business One ERP.
Inventory Management
Inventory is a critical part of any business, especially life science startups; getting inventory right is vital. ERP allows for supply chain transparency, enabling you to track stock as it moves throughout the entire supply chain.
ERP systems can automatically generate detailed reports, provide accurate counts, analyze inventory flow, perform quality checks, ease planning, delivery many other tools to make inventory management less demanding even in the face of strict tracking requirements. ERP is tailor-made for life science inventory management needs.
Human Resources
Life science firms often are staff-intensive, especially once a startup scales.
ERP comes with a complete suite of human resource management functions that allow a startup to more easily add and manage employees as the business grows without having to migrate to a more robust solution later.
Moreover, using ERP for human resource management allows for startups to more effectively use automation for payroll, vacation and benefits allocation, task delegation and other core functions of people management.
Order Management
Order management is one of the first challenges that life science startups face as they grow; for many businesses, issues and complexity with order management are what first suggests the move to an ERP system.
That's because tracking orders and fulfillment is one of the original use cases for ERP. Invoicing and order management can be completely customized for the specific needs of a life science startup, and the system is able to connect with supplier systems and just about any third-party solution.
Because the entire business runs through an ERP system, startups also can benefit from the improved visibility and tracking that often is necessary in the life sciences field. Management and staff can instantly see the status and location of orders, and coordinate it with manufacturing and supplier bottlenecks.
The ability to deal with customer orders and provide quick fulfillment is key to a successful startup. Using ERP will enable you to manage workflow, track and deliver orders in a cost-effective and timely way.
Customer Relationship Management
Customer retention is vital to the growth of any startup, and using a system that effectively tracks and manages all customer data is an important part of the scaling journey.
While there can be a crossover between CRM and ERP, ERP does both but not the other way around. And having a single, shared database for all financial, operational, and customer data within a startup's system means greater control and greatly improved reporting.
ERP for life science firms also enables lead management, marketing analytical data, customer self-service portals, and customer service automation.
Best Practices for Growth
ERP also helps life science startups in a less tangible but no less important way.
When a business is in the startup phase, things can move quickly and without notice; unexpected or unplanned surges can cause heavy workloads and intensified complexity. Having ERP in place can make this manageable as it expands to incorporate the ebb and flow of a startup's growth.
By having an ERP system in place, one that supports companies ranging from startups to Fortune 500 businesses, startups more easily can make the jump from fledgling business to established enterprise. Best practices are built into the system, and features a startup will need later can sit unused until the right moment arrives.
For some startups, ERP is a destination later in the growth of the business. That's not the case for life science startups, however. ERP is critical from the start for such businesses.
If you'd like guidance on where and how to begin the ERP process, contact one of our consultants at (801) 642-0123 or by emailing info@nbs-us.com.