Influencers, online comparison shopping, and Amazon have dramatically altered the landscape for consumer packaged goods businesses in recent years. Then the pandemic came along, which further messed with business models, supply chains, and revenue projections for CPG firms.

Expectations for growth within the industry are strong, with 86% of CPG firms predicting a 2% or greater growth rate in the next 12 months, according to a recent industry survey conducted by Canam Research and sponsored by Navigator Business Solutions. But concerns within the industry also are high.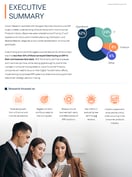 Consumer Products industry survey for 2023 trend report
The two biggest concerns among CPG businesses are shifts in consumer spending patterns and changing customer expectations, according to the study. The CPG space is anything but static, and businesses are worried about keeping up.

That is why one of the biggest challenges that could derail the plans of CPG firms today is a lack of operational visibility. Nearly a quarter of CPG firms cite a lack of visibility into data across all departments as the biggest challenge point right now. Without complete visibility, CPG firms will struggle to spot consumer trends fast enough and adjust appropriately as marketplace dynamics change.


Centralized Systems: The Key to Operational Visibility

Visibility comes from accessible operational data. The problem is that CPG firms are behind the curve when it comes to accessible data. Most CPG firms are swimming in data, but a reliance on a hodgepodge of IT systems means that much of this data is locked away in silos and thus unable to bring visibility and trend-spotting.

Roughly 66 percent of CPG firms still rely on multiple backend systems for operational management, according to our study, with 34 percent using multiple systems that operate in a silo. Less than 30 percent use a centralized enterprise resource planning solution (ERP) for operations and data management.

This is a huge problem for CPG firms.

That's because data cannot be correlated and used for insight when it is scattered across multiple systems. This fragmented systems landscape was passable when consumer trends and marketplace dynamics were relatively static, but those days are gone and not likely to return. CPG firms need the visibility that comes from a centralized backend system so they can make constant adjustments both in what they make and how they sell it.


Artificial Intelligence and the Next Level of Visibility

The operational visibility that comes from having all of a company's data in one place is just the start of modern visibility, however.

Data accessibility from centralization is the visibility that comes from digital transformation, the trend of moving systems to the cloud that began nearly 20 years ago and is largely complete today. The next level of visibility that leading companies are pursuing is what is coming to be known as the intelligent enterprise.

The intelligent enterprise is a fancy term for taking data within an organization and turning it into actionable organizational wisdom through advanced analytics and the latest advances in artificial intelligence and machine learning. Whereas the primary goal of digital transformation was bringing the data together in the cloud and making it accessible, the goal of the intelligent enterprise is fully using this data to drive insights that help a business adjust and evolve.

This ongoing adjustment and evolution of operations is exactly what CPG businesses need to keep up with changing consumer sentiment and shopping patterns. Instead of being ready to make the jump to an intelligent enterprise, however, many CPG firms are still behind on the previous digital transformation that brought operational data together in one place.

Read 'Overcoming today's CPG Manufacturing challenges with ERP
Cloud ERP: The Gateway to Operational Visibility and an Intelligent Enterprise

Thankfully, CPG businesses can play catchup on the visibility from digital transformation and move toward becoming an intelligent enterprise at the same time. The main thing that is needed for operational visibility today and the advanced, AI-driven analytics of the intelligent enterprise tomorrow is the migration of all backend systems to a modern cloud ERP system. Cloud ERP centralizes company data, enhancing visibility. It also starts CPG firms down the path of advanced analytics for analyzing this data and allows CPG companies to plug into the latest advances in AI and business intelligence that make up the intelligent enterprise.

In other words, the great majority of CPG firms need cloud ERP to meet the challenges of the industry today and tomorrow.

Some CPG companies already are moving in that direction; roughly 30 percent of CPG firms recently moved to a new ERP system, according to our research, and 35 percent plan to migrate to a new ERP system within the next two years.

If the data from our study is correct, however, that still leaves many CPG firms lagging behind. Visibility and agility are critical for CPG firms today, and that requires cloud ERP.

If your CPG business lacks complete operational visibility or has yet to fully migrate to cloud ERP, check out our prepackaged ERP industry solutions for CPG companies or contact one of our experienced ERP consultants by calling (801) 642-0123, writing us at info@nbs-us.com, or filling out our contact us form.