Times are changing for the wholesale distribution industry. Online marketplaces, the digitization of the buyer journey, real-time data and even artificial intelligence are putting pressure on distributors to evolve or fall behind in the market.
Central to the evolution is having a modern enterprise resource planning system (ERP) running backend operations. ERP serves as the digital nerve-center for leading wholesale distributors, enabling them to meet changing market conditions and stay relevant in the midst all the changes brought about by technology.
Here are seven areas where ERP helps your wholesale distribution business, making your company more competitive and responsive to the changes that face the industry.
1. Increased Visibility
Managing supply chains and operations is significantly easier with ERP.
With a modern, cloud-based ERP system, data from across the business and the all corners of a wholesale distributor's supply chain are tracked and managed in real-time from a single system. This enables more precise operations and deeper insight into what's going on with the business, and improves strategic decision-making so wholesale distributors can adjust as prices, logistics and market conditions shift.
By seeing into all aspects of the business, you also can improve scheduling and efficiency.
2. Better Inventory Management
Inventory management is at the center of every wholesale distribution business. With ERP, wholesale distributors can reduce manual processes and improve inventory precision through centralized, real-time tracking.
ERP enables easy tracking and inventory management across multiple warehouses and currencies in real-time, with automated re-orders and tracking. Built-in analytics help optimize inventory decisions such as reorder quantities, depletion rates and where to order from based on current pricing.
3. Improved Reporting and Invoice Management
Invoicing customers and creating reports stops being a chore with ERP. That's because both report creation and invoicing are automated processes with modern ERP solutions.
Instead of pulling together reports from spreadsheets and multiple systems, ERP helps your wholesale distribution business save time and improve accuracy by generating reports with a few taps on a smartphone or clicks from a mouse. Custom reports can be generated without help from the IT department, then saved for ongoing use.
With all sales data stored in the system, you also can generate and send out invoices automatically, ensuring timely payment and accurate billing.
4. Efficient Demand Planning
Balancing inventory with sales requires good demand planning. ERP makes this planning both easier and more accurate by automating reorders against sales and showing inventory levels in real-time.
With advanced analytics and a full picture of operations, you also can better forecast future demand by pulling from both internal sales data and external data sets for more accurate and sophisticated demand modeling.
ERP makes demand planning both more accurate and easier to perform.
5. Higher Staff Productivity
When processes are automated and all operational data is easily available, your wholesale distribution business saves time and enables employees to focus on more strategic tasks.
Case studies consistently show that ERP systems make employees more efficient and engaged with a business. There are less errors when manual processes are reduced, and less busywork because the system handles most common business processes that take the time of employees prior to the rollout of an ERP solution.
Letting software handle routine operations is the original value proposition of IT, and modern ERP systems are one of the greatest examples of software that delivers on that premise.
6. Widespread Automation
As implied above, ERP helps your wholesale distribution business significantly boost its level of automation. With most business processes now digital, ERP makes it possible to easily automate these processes because all aspects of operations flow through the system.
With easy-to-create automated workflows that cover all major areas of the system, you can do more with less by letting the ERP system accurately handle transactions and workflows without the need for manual intervention.
Instead of manually typing in sales and supplier data, tracking it and handling things like logistics, after the rollout of a modern ERP system you can instead focus on exceptions.
7. Better Mobility
Employees no longer work solely from their office cubicles. With the rise of smartphones and cloud computing, work now takes place from anywhere and everywhere.
Modern cloud-based ERP enables this mobility both by housing all wholesaler data in the cloud for anywhere connectivity, and by making it accessible through an easy-to-use cloud interface. With proper access rights, any employee can get the data they need and engage with the business no matter their device or physical location.
This is especially important for attracting and retaining top talent because Millennials expect mobility and being able to work from their smartphones as needed.
For more about ERP and how it can help wholesale distributors, check out our free guide on using ERP for modernizing your wholesale distribution business.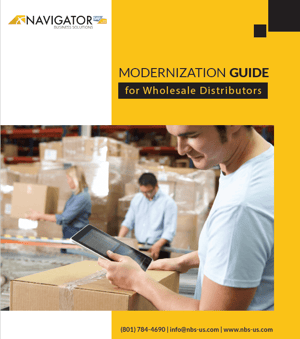 Modernization Guide for Wholesale Distributors