The New York Lottery used to say that to be a winner, "All it takes is a dollar and a dream!"
It's not such a simple equation for a young biotech firm. Getting from startup to winner requires a lot more than a dollar, and achieving that dream requires much more hard work.
While the R&D phase can be an exciting time full of discovery and breakthroughs, many biotech entrepreneurs find the path to commercialization daunting. It's not just about the everyday headaches most growing businesses face; you'll also need to deal with the unique regulatory mandates imposed on the biotech industry.
If you're getting ready to move toward full-scale production, automated cloud-based software may be the solution for managing some of these challenges and simplifying your operations. An enterprise resource planning (ERP) solution addresses complexities head-on through a centralized, easily accessible system.
Here are some of the key areas to focus on as you ramp up to commercialization.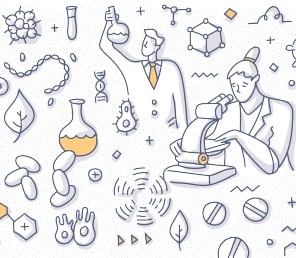 4 Common Financial Challenges Biotech Companies Face
Manufacturing and Fulfillment
Biotech companies often face complicated logistics and coordination requirements. You'll be sourcing raw materials, working with new suppliers and distributors, and managing new processes, more personnel, and increasingly complex systems. It will be even more important to standardize processes and strengthen efficiency as you oversee procurement planning, demand, production, and distribution.
Manual recordkeeping or outdated software makes everything harder. ERP can help integrate disparate systems and processes. This gives you full visibility into the entire supply chain in real-time so you can identify shortages, changes, and other trends that could affect inventory. Real-time analytics alert you to problems early enough that you can come up with alternative sourcing or routes for logistics.
The system also can automate processes for accounts payable and receivable, production, shipping, sales tracing, and more.
Auditing Practices
Systems auditing is a mandated process that requires the collection, analysis, and accurate reporting of massive amounts of data. Many biotech firms start out with a simpler solution, such as QuickBooks, but find that a ramped-up business necessitates the need for automation, integration with other systems, and more complex approaches such as accrual accounting.
Biotech products require precise specifications and tracking during manufacturing and beyond. If a problem occurs, your business will need to be able to pinpoint exactly how it happened and track any product recall. All of this will be done under the watchful eye of the FDA and other regulatory bodies, which will require quality controls unique to the biotech industry.
An ERP solution ensures end-to-end traceability and documentation. Quality and compliance information are at your fingertips.
FDA Validation
If you're in the life sciences field, you likely know that biotech businesses must validate new business systems and processes to ensure FDA compliance. This can be an expensive and time-consuming process that requires dealing with third-party auditors.
Many ERP solutions come preconfigured for FDA validation. Artificial intelligence, automation, and machine learning all help streamline tracking and auditing processes into one integrated picture to simplify validation requirements.
Geographic Expansion
You may be preparing to launch a single product in just one country and are operating with a lean staff for now. To stay profitable and grow, however, you may be planning to eventually go global. This understandably will require a larger supply chains, multi-currency transactions, and growing employee populations, often in multiple locations.
A centralized ERP solution can help you handle the financial, regulatory, and supply chain logistics for new markets and regions. Centralized data also helps facilitate stronger internal collaboration and makes it easier to share data with other businesses and customers.
Financial Oversight
The more complex your operations become, the more complex your finances will be. With full-scale commercialization, you'll need to monitor vendor pricing and the costs of materials regularly. An ERP solution will let you see your finances and revenue streams in real-time and enable you to forecast more accurately.
Additionally, if you need to secure more venture funding at some point, you will need solid financial data and a strategic plan. Robust analytics and reporting capabilities simplify report generation and allow you to make stronger revenue projections and perform more accurate risk analysis.
Be a Winner in 2023
Launching a new product is exciting for entrepreneurs, and it can be life-changing for customers.
As operations become more complex, however, outdated software and manual methods can hinder your progress if you're wasting time, money, and resources. A lack of proven oversight and documented risk management also will either slow you down or put you out of business.
An ERP solution provides a centralized offering for managing all aspects of your business and ensures you can meet regulatory and compliance mandates while aggregating and analyzing data. This drives competitiveness and efficiency, and at the same time provides the flexibility and scalability needed to support growth so you can win again and again.
We've developed a free ebook that will help to get you up to speed, Bioscience Startup's Guide to ERP. You can download a copy here.