Hey, Finance Team, we have a few questions for you.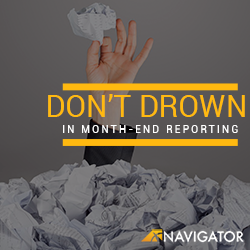 Would making your monthly close shorter, cutting the time you spend generating financial statements and consolidating revenue reports, make you happy?
Would you benefit from taking Excel sheets out of the reconciling process and automating it, allowing you to focus on reviewing and understanding your financial analytics, rather than gathering data?
Does having real-time data, delivered through a user-friendly interface that eliminates the need for duplicate data entry, streamlining your financial processes while reducing errors, sound like a system you need to be using?
How about a predictable fixed cost of implementation and cloud based delivery with no upgrade costs to worry about?
Sound Good?
Would you like to gain real-time financial transparency across your organization? Track, manage, and report on all financials across multiple entities – helping people at all levels of the enterprise make optimized, informed decisions on everything from inventory optimization to vendor relationships?
Last question…did you know SAP Cloud ERP (Enterprise Resource Planning) solutions implemented by Navigator Business Solutions, deliver all that and more for a Fixed-Price and Fixed-Scope, no surprises?
ERP products vary in complexity and features offered, even within the Small to Mid-size Enterprise space. Depending on who you speak with and how they packaged a solution, the costs could add up well past the first quote you hear.
Cloud computing has become the solution for organizations that are looking to lower their IT overhead and have a need for increase flexibility to scale at predictable costs into the future. It's an innovative way to take advantage of World-class enterprise software functions without traditional up-front infrastructure costs or the unpredictable support and maintenance costs of on-site software and hardware. Cloud ERP solutions like SAP's BusinessOne and Business ByDesign software, leverages cloud hosting on remote servers, with the flexibility, scalability and collaborative force of working in the cloud. With cloud ERP systems, finance teams can benefit from real-time reporting and visibility throughout the organization, with mobile collaboration empowering teams to keep accounts balanced, accurate and updated from anywhere at any time, and from any device.
Making the move from isolated and limited accounting software or for an even more complicated multiple software application environment is more straight forward than it sounds. By leveraging the benefits of a cloud solution implemented by a proven leader, your business will be in a much stronger position to support growth and change, while reliably controlling back-office costs and improving operating margins.
Know more, claim your spot at our live product webinar CLICK HERE