Chief financial officers often play a starring role in business these days.
But for maximum impact, CFOs need the right tools; having the right financial tools enable CFOs to work more effectively by giving them real-time data and analytic capabilities that lead to better organizational decisions. One of those key tools is good enterprise resource planning system (ERP).
CFOs and ERP: More Critical Than Ever
Facing global economic pressure, uncertainty, volatility, complexity, and ambiguity, businesses need sound financial and risk management to help them reduce costs and discover new sources of growth. This makes the CFO a key leader for a resilient and healthy organization.
Fractional Chief Financial Officer (CFO) Services Benefit Life Sciences Companies [blog]
Similarly, ERP is the digital backbone that integrates and automates business processes and provides a top-down view of a company's operational and financial information. This visibility makes it possible to come to accurate, insight-driven decisions that build a culture of efficiency and encourage innovation.
A paper in the Journal of Accounting & Organizational Change, CFO Characteristics, and ERP System Adoption, analyzed the relationship between CFOs and ERP adoption. The study found that businesses with externally recruited CFOs have a higher rate of ERP adoption than those who are promoted as an internal candidate, as those brought in from the outside were less tied to the practices that came before they took the job.
Previous studies cited by the research also indicate that CFOs have a higher impact on ERP system implementations than other executives and that the finance module mostly determines whether an ERP solution will be deployed.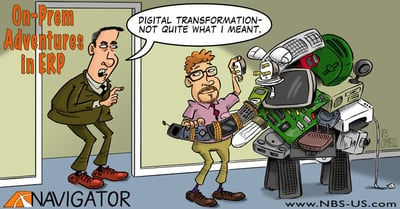 ERP Helps CFOs with Digital Transformation
What this tells us is that in some regards, ERP implementation is not really an IT project; in practice, it's a financial one. CFOs are under pressure to select the right ERP system, too: when deployment fails, that affects business operations and the user experience, because CFOs will lack the visibility, intelligence, and data to make accurate decisions.
A successful ERP implementation leads to cost savings, increased productivity, and efficiencies in accounting and finance. It also provides tangible, measurable results that are reflect in ROI.
Seven Measurable Benefits
There are a number of solid results that CFOs gain from ERP.
Comprehensive accounting. ERP offers meaningful financial management at its core. A complete view of the business is essential to success, and all relevant data should be integrated into accounting workflows. This enables businesses to see procurement, invoicing, and cash flows simultaneously.
Decision-making with complete visibility. CFOs gain a consolidated perspective in real-time, and have access to a cost-effective methods of collecting, processing, and analyzing data for decision-making and the ability to track performance visibility. ERP provides a single unified view, shedding light on the entire enterprise and all the issues that may affect the business's financials.
Compliance and taxation. ERP offers tools for managing compliance and tax-related reporting like segregation of duties (SoD). It also enables the controls required by many regulations, and ensures compliance or offers remediation where necessary.
A stepping stone to digital transformation. ERP offers a clear path to digital transformation by removing the silos of outdated, manual systems and processes. Data integration, scalability, flexibility, and the facilitation of collaboration with automated processes all lead to a changed and more efficient culture.
Increased revenue opportunities. ERP helps businesses expand revenue sources by supporting growth and profitability in new markets and geographies. ERP can link processes across the entire value chain in manufacturing, procurement, sales, and services, which enables automatic updates to the general ledger and sub-ledgers for keener insights.
Automated financial processes. ERP helps record transactions that are reflected automatically across all ledgers for faster management and a single source of truth that includes all financial data. It helps to minimize the risk of data omission, and the generation of a transparent audit trail helps automate financial value chain operations.
A shortened cash cycle. Central management and real-time access to all bank-related information and accounts make it easy to conduct liquidity forecasts, manage cash, and optimize cash positions. Greater visibility into financial performance improves the cash-to-cash cycle.
Choose the Right ERP
According to the study referenced earlier, 210 of 296 CFOs said their company had adopted an ERP system, which were predominantly sourced from SAP. SAP BusinessOne Cloud ERP brings real-time, unified financial data to a company and increases accounting transparency. This platform can facilitate faster sales, lower transaction costs, optimize working capital, and ensure regulatory compliance.
Future CFOs need to add value to organization-wide transformation initiatives. This is about business impact rather than finance expertise. By providing real-time information, intelligent ERP allows finance to shift from periodic processes and workflows to an always-on mode that is in line with the reality of modern business.
SAP S/4HANA Cloud, Public Edition for Mid-sized to Large Enterprise organizations
SAP Business ByDesign for mid-size and growth-focused companies
SAP Business One for small and mid-sized businesses
If you're a CFOs looking to make the next step, learn more by reading our free guide, A CFO'S Guide To Implementing ERP.