For years, supply chain management has been high stakes, but not always high-tech.
Companies have done their best to keep track of financial, material and information flows in and out of the organization, striving to meet customer demand and achieve profitability. Software systems were often disjointed and poorly integrated, however, offering little in the way of clear and actionable perspectives. Even ERP software was often too hobbled to support the needs of supply chain management teams.
Thankfully, 40 years of innovation has finally changed the paradigm. Now, advances in ERP are revolutionizing supply chain management and bringing supply chain organizations to a digital transformation tipping point.
Modern ERP is improving supply chains by connecting supplier systems, increasing responsiveness and automating critical functions. Companies that upgrade their legacy ERP systems to the newer cloud-based ERP solutions can reap the benefits of enhanced inventory management, smarter procurement and more accurate demand forecasting, resulting in reduced costs and better production innovation.
The Rise of ERP
Traditionally, ERP systems were used in large, industrial enterprises. But as more organizations undergo digital transformation, trends have shifted and ERP is now in widespread use throughout many different industries. ERP systems are often viewed as a descendent of Market Requirement Planning and Manufacturing Resource Planning, strategic planning approaches adopted in the 1970s and 1980s. Initially, in the 1980s, companies used ERP to perform discrete functions, leading to unwieldy siloing. Since the 1990s, companies have worked to overcome these silos, taking a more inclusive view of the potential of ERP and integrating functions that now span the enterprise.
As the 2000s and 2010s heralded digital transformation, companies increasingly turned to extended ERPs to boost connectivity and achieve even greater integration for different stakeholders—and tasks—within the organization.
Managing Supply Chain Data
For modern manufacturers, supply chain management is the backbone of the organizational success. Without proper management of supply chain flows, revenues dry up and business grinds to a halt. Supply chain management encompasses three major flows. Material flows include raw materials, supplies or merchandise entering the company and moving to customers and end-users. Information flows are associated with these movements, such as schedules for product deliveries and distribution, storage and shipping capacity, or order tracking. Financial flows are the third element of supply chain management, including invoicing, ownership of goods and supplies, or terms of credit.
Managing financial flows poses some of the greatest challenges for supply chain teams.
A supply chain is an ecosystem. It includes upstream suppliers, manufacturers and distributors, as well as downstream consumers such as retailers and customers. Teams that focus on supply chains must undertake careful planning, monitoring, and assurance to ensure timely delivery and improve collaboration between all stakeholders. Supply chain management is the delicate art of balancing supply and demand to achieve profitable delivery of products.
Implementing ERP for supply chain management is a step in the right direction, but without a good approach, companies risk becoming bogged down or even experiencing detrimental effects from the new system. The end goal of the supply chain is customer satisfaction and bringing in profits for the company. From the initial order to the moment the customer's needs are met and profits are received, implementation strategies play a vital role.
For a successful implementation, companies need a well-defined process flow chart that identifies key responsibility areas. Taking a strategic view, companies also need to understand long-term and short-term return on investment from actions and expenditures. Additionally, supply chain management teams will need to consider all resources at their disposal to build off of and guarantee a smooth transition to the new system.
How ERP Benefits Supply Chain Management
Today, ERP is part of the DNA of almost every corporate function, from finance and accounting to human resources and production. Integrated ERP systems help to tie together information from these disparate functions, offering more of a "single pane of glass" for different departments. This integration is particularly important for managing the complexities of supply chain management with multiple flows.
For supply chain management, ERP offers a suite of benefits. Companies can improve organizational efficiency and order tracking, turning to ERP to support decision-making. Better tracking helps to boost productivity, cut-down on delays and offer the insights needed to avoid potential errors. Implemented correctly, the end result is an optimized inventory and reduced costs that help companies to thrive.
Decision-making at the Tipping Point
Thanks to decades of development, ERP systems have advanced and integrated, coalescing into solutions that are poised to revolutionize the supply chain management process at the dawn of digital transformation. Without ERP, it will be increasingly difficult to ensure the collaboration and timeliness at the heart of supply chain management. Companies should carefully consider their options and seek guidance as they forge ahead in the digital transformation process with advanced ERP systems for supply chain management.
Review the Top 7 Supply Chain Challenges [Infographic]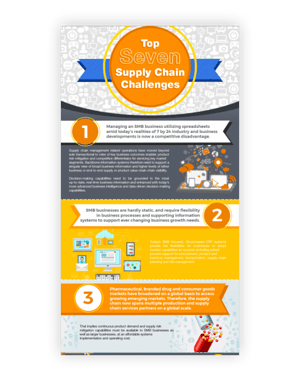 Want to read more regarding ERP systems for Distribution or Manufacturing?
Ready to get hands on? Join our FREE Live Webinar and see the platform first hand for a better understanding of the benefits.