Need an example of why legacy systems just don't cut it anymore? Look to the pandemic.
One example can be found over the pond in England. Outdated Excel file formats recently caused Public Health England to lose 16,000 COVID-19 test results in the midst of the coronavirus pandemic. The error had far-reaching ramifications and points to a glaring need for automated, integrated digital systems for storing and accessing large amounts of data.
Legacy solutions that require manual workarounds are simply not reliable nor sustainable, particularly in the fast-paced pharmaceutical industry. In the case of Public Health England, an updated Excel file format could have allowed more data to be processed, preventing the lost test results. But the failure points to the larger issue of relying on an antiquated system of spreadsheets to store critical data.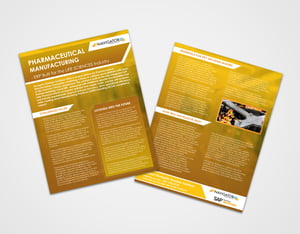 Pharmaceutical Manufacturing Brief
An enterprise resource planning (ERP) solution could have replaced the outdated spreadsheet system, ensuring data was being stored at maximum capacity, automatically, without the need for manual intervention and the potential for human error.
A Single, Standardized Source of Truth for Pharma Manufacturers
In the Public Health England case, COVID-19 test results were filed using text-based lists saved as CSV files. The organization designed an automatic process to pull the data into Excel templates, making it available for analysis by the National Health Service (NHS) and other government departments. However, an old .XLS file format was being used, which limited the number of test results that could be stored, led to the lost data.
A single automated, integrated ERP solution could avoided the problem. An ERP system acts as a centralized platform for all data, ensuring it is authentic, relevant and referable. It creates a single source of truth, which is for complex data systems and networks like those found in the pharmaceutical industry.
ERP systems structure data so that each element is mastered in one location. Links to data are only referential, and all other locations of data refer back to the primary location.
ERP solutions provide users with a federated view of data that is accurate and reliable, eliminating redundancies and departmental data silos. Importantly, they eliminate the need to rely on outdated manual processes like spreadsheets, reducing the risk for human error and capacity limits like Public Health England had to contend with.
How ERP Benefits Pharmaceutical Manufacturers
Spreadsheets and other manual systems are inconsistent, often out of date, time-consuming and prone to errors. A single source of truth that's digitally integrated like an ERP system eliminates those problems, ensuring all users, systems and departments have access to an accurate, standardized set of data.
ERP solutions provide a host of benefits as well. They act much like a central nervous system, consolidating data from all departments including purchasing, inventory management, sales and marketing, human resources and planning. Pharmaceutical manufacturers will benefit from:
Built-in automated reports and analytical tools, rendering Excel and spreadsheets unnecessary.
Automation and integration, eliminating task duplication while making data manipulation easier and more reliable.
Aggregation of data from disparate sources so that it may be analyzed and mined for business intelligence and reports.
Help for manufacturers trying to meet regulatory compliance mandates and regulations while keeping up on industry standards.
Assistance with quality management and assurance as well as process management.
Document management is another important area where ERP solutions can greatly assist pharmaceutical manufacturers. ERP systems can aid organizations in recording historical data, preparing it for analysis, and conducting smooth and secure audit checks.
Perhaps most critically, ERP systems provide a centralized database for storing and accessing laboratory information. All batches and iterations may be documented to ensure quality control and safety standards are met.
Pharmaceutical manufacturers are already under pressure to meet deadlines and remain competitive in an aggressive global market. The last thing a business needs is to lose data because of outdated manual software and processes like spreadsheets. An integrated, digital solution like an ERP system handles those processes automatically, enabling manufacturers to focus on their core business objectives.
There also are tailored ERP solutions specifically developed for pharmaceutical companies, such as our prepacked industry solution for Pharmaceutical Manufacturers. Built on best practices built for the pharmaceutical industry, the cloud-based offering helps businesses maintain dynamic product cycles. It aids manufacturers in all steps of the process, from development through to distribution.
COVID-19 has added a layer of complexity and urgency to the already competitive, fast-based pharmaceutical manufacturing industry. To optimize productivity and efficiency while meeting deadlines and compliance mandates, businesses must streamline their operations and processes. Relying on a single source of truth for data assures they can take advantage of the intelligence and automation advantages afforded by integrated digital processes.
For more on why it might be time to invest in a new ERP solution, contact one of our consultants at (801) 642-0123 or info@nbs-us.com.