For small to medium-sized businesses, there's often the question of whether QuickBooks is enough or a firm needs a more robust enterprise resource planning solution (ERP).
Each solution serves a different purpose, although there's overlap. So let's look at both, and see where each makes sense. For comparison, we'll use the SAP Business One ERP system since it is one of the most popular options for SMBs and used by roughly 60,000 small to medium-sized businesses across more than 150 different countries.
Here's the cheat sheet for what's to come:
| | |
| --- | --- |
| QuickBooks | SAP Business One |
| Accounting software | End-to-end business software |
| Meant for basic bookkeeping | Meant for running a business |
| Suitable for small business volume | Scalable to any transaction volume |
| General accounting solution | Industry-specific solutions |
| Best for: Small Businesses starting out | Best for: Businesses planning for growth |
Head to Head: QuickBooks vs. SAP Business One
When comparing QuickBooks with SAP Business One, let's start with the intended purpose of each software solution.
QuickBooks is an all-in-one accounting solution for SMBs. With QuickBooks Enterprise there is add-on functionality such as limited inventory management, customer reporting and sales functionality, among other features. But nobody chooses QuickBooks for these other elements—bookkeeping is the core offering, and QuickBooks does it well as the leading SMB accounting solution. When a business chooses QuickBooks, it is purchasing the solution primarily because it needs accounting software.
SAP Business One comes with robust accounting functionality, and is a limited version of the same accounting software used by large enterprises such as Coca-Cola and British Petroleum. But businesses don't choose SAP Business One on the basis of accounting: They choose it as the software that runs their business end-to-end. While QuickBooks bolts on functionality that extends the software beyond accounting, SAP Business One is built around a total business solution.
For SAP Business One, accounting is an important component of operations but not the only one. The software also handles operations, procurement, logistics, human resources, supply chain management and areas such as sales and marketing. SAP Business One is a complete, integrated package meant to power the entire business now and as it grows.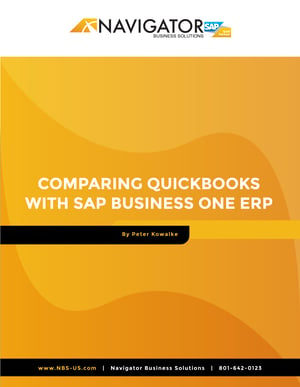 Download the document to read offline
Flexibility
For basic accounting, QuickBooks is a market leader for a reason: It has all that a business needs for bookkeeping when first starting out. If a business has typical accounting needs, QuickBooks does the job well.
If a business has more complex accounting needs or requires a non-standard elements such as multi-currency support, customized reports, inventory valuation methods or integration with third-party software for specific industry functions, however, QuickBooks performs less well and often requires workarounds.
On the other hand, SAP Business One is extremely flexible out of the box. As a complete business solution that's descendant from the software powering most Fortune 500 companies, SAP Business One is built around custom configuration and meeting business-specific needs. It can be configured to work with almost any business process or special use case, and there's a path for integration with almost every major third-party solution because the software is meant to power the whole business, not just handle accounting.
Where integration doesn't exist out of the box, custom integrations can be developed and third-party solutions exist such as Navigator's iConnect.
Scalability
QuickBooks is built for small business. So when transaction volumes are low and there are less than 30 users interacting with the system, no problem. As a business grows, however, performance suffers because QuickBooks is not built for larger or fast-growing businesses. A one-man business or a small company can use QuickBooks and get what they need. Businesses with a faster growth trajectory might need more, however.
SAP Business One also is built for small business, but as a total business solution it is built to handle larger transaction and user volumes; it accommodates 5 users up to 500, and is used by mid-sized businesses with high transaction volumes as well. When a company grows beyond SAP Business One, it also can graduate seamlessly to SAP's ERP offerings for large enterprise customers.
Shoe manufacturer, Rothy's, started with QuickBooks but then moved to SAP when sales volume started to grow.
"We had buy-in from the founders and the leadership very early about needing to invest in a strong foundation in the infrastructure to support the customer experience and growth," says Ulion Riebe, head of finance for Rothy's.
"I think of ERP as a second-generation accounting system," he says. "It is suited to ecommerce brands, direct brands, and provides all the multi-language, multi-currency stuff."
Read more about how Rothy's set its strong backend operations foundation here. [Rothy's Case Study]
Business-Specific Functionality
As a general-purpose accounting solution, QuickBooks makes sense. A wide range of businesses rely on the software, and it is built with general-purpose accounting functionality. Businesses that are both small and basic with accounting are set.
For businesses that rely on industry-specific software or have unique needs such as FDA-mandated validation requirements, however, QuickBooks is not enough.
SAP Business One, on the other hand, offers more than 600 prepackaged industry solutions that are configured for specific industry needs. Businesses with industry-specific business processes will find that SAP Business One is a far better fit.
Where Each Excels
So the comparison between QuickBooks and ERP really centers on whether the business is complex or simple, and if it plans to grow.
For small businesses with simple processes or those just starting out, QuickBooks makes a good entry point for accounting software. But as a business grows, it requires a more robust accounting solution that is more integrated with the rest of the business. When that moment arrives, it is time for ERP. Planning ahead for that moment will save you time, resources and investment.
Follow up reading
When QuickBooks is Not Enough [Blog]
5 Reasons It's Time for You to Leave QuickBooks Behind [Blog]